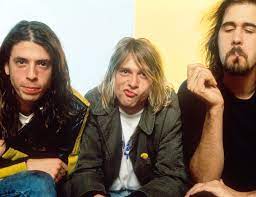 In 1994 a worldwide devastating death happened of a famous rock star named Kurt Cobain. Kurt Cobain was in an iconic band called Nirvana alongside Dave Grohl, Krist Novoselic, and in later years Pat Smear. Kurt Cobain died by suicide, leaving a note to his family. He was inspired by The Beatles, especially John Lennon when he was younger. He grew up in Aberdeen, Washington.  He lived in hotels as he went on but later moved into Seattle, Washington with his wife Courtney Love and daughter Frances Bean Cobain in March of 1993.
During high school, Kurt was picked on. He only hung out with girls because he felt more like himself and more comfortable being himself around them.  People started to pick on him because they thought he was gay and he did believe he was for a while, but he  later figured out he wasn't. Kurt ended up dropping out of high school two weeks before graduation because he didn't have enough credits to graduate. During high school, he often slept under the Young Street bridge also known as "Kurt Cobain Under the Bridge Memorial."  The bridge is now covered in graffiti honoring his legacy. He had been in many bands before Nirvana which formed in 1987 but on January 12th of 1991 their hit "Smells like Teen Spirit" came out. Kurt met Courtney Love in 1991 inside of a nightclub in Portland, Seattle. They soon got married on February 24th, 1992 in Hawaii on Waikiki Beach. Kurt wearing his pajamas and Courtney wearing a white lace dress. They were married for two years up until Kurt died, weeks before Kurt's passing they were in the process of getting a divorce.
On April 5th, 1994, Kurt Cobain died by suicide. Six days before finding the body, he was missing. Courtney told investigators to look in the top-rated hotels for him. On April 8th, 1994 they found his body inside of his home in Seattle. He overdosed on heroin before committing suicide. Many were devastated by his death.  Band member, Krist Novoselic, stopped playing music after he passed, but is now an independent politician. Dave Grohl says he couldn't listen to the radio for weeks after his passing, but later went on to form a band called, Foo Fighters, alongside Pat Smear playing the guitar. Courtney continued to make music up until 2002.