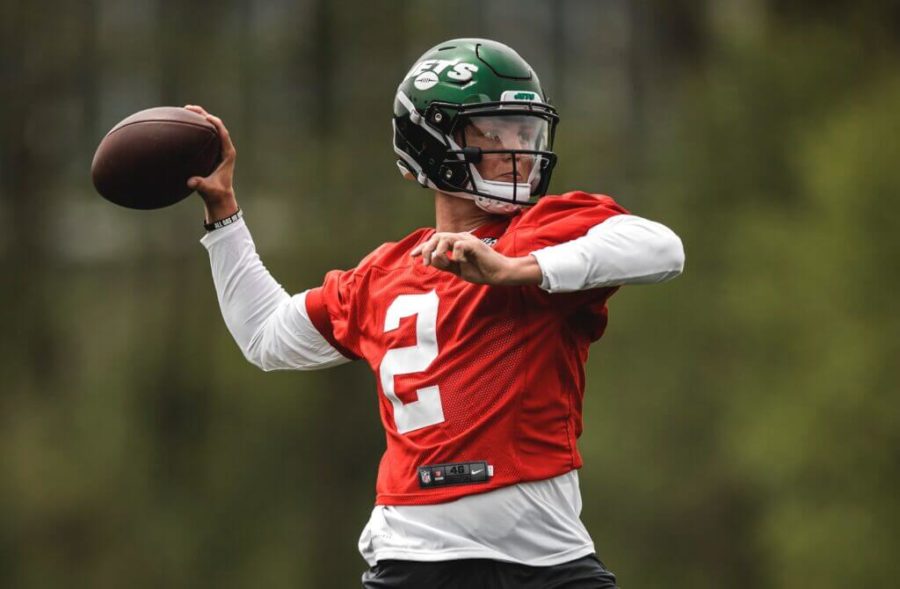 The New York Jets have walked out of the draft with their best draft class in years with GM Joe Douglas looking like a real general manager. The Jets secured their franchise QB with Zach Wilson and traded up with the Vikings to select Alijah Vera-Tucker the best interior offensive lineman in the draft. They also picked up one of the best receivers in the draft in the second round, Elijah Moore.  From what scouts and mock drafts say, he had first round talent and could potentially be the biggest steal in the draft. Joe Douglas also picked up some late round gems in  Michael Carter out of North Carolina who was a dual threat half back that can run and catch.
With voluntary workouts starting up and mini camp concluded there has only been good things said about Zach Wilson and this draft class so far. Some of the other narratives floating around in training camp are if Zach Wilson will live up to the hype of being the number 2 pick in the draft. Can he handle the bright lights of the biggest stage in sports in the mecca that is New York? He's certainly shown his talent at BYU with his twitchy passing mechanics when he's in pressure similar to Patrick Mahomes and has a cannon of an arm as we saw in his pro day and during his 2020 breakout season.
This season the Jets strength of their schedule is in the middle of the pack this year in years past they were always getting beat down by some of the leagues top teams with no real chance to compete with a team on their level consistently. It's the Jets. It's harder to consistently be this bad over and over than to have one winning season out of nowhere, but they still manage to pull it off year by year with an awful coaching staff and front office with almost no talent on the field. This season feels different because fans actually believe in this coaching staff and front office compared to seasons past. Instead of the crazy eyed Adam Gase, they are getting the league wide respected coach in Robert Saleh who will bring his unmatched energy on and off the field. Is this the start of a new era of Jets football only time will tell?