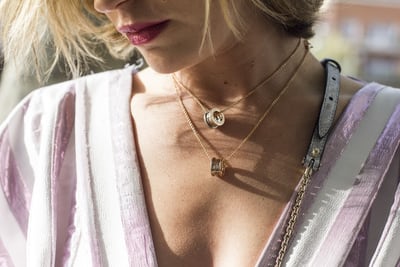 Courtesy of unsplash.com
Accessories are always something to help spruce up your look, and I for one, love to add plenty of jewelry to my look during the summer. There are so many different types of jewelry you can make using various types of beads and tools. Making jewelry not only helps add to your look, but it is also a fun hobby to pick up as well!
You can make anything ranging from bracelets, to necklace, to rings. There are many different varieties of things you can make. My personal favorites are funky beaded bracelets, and crystal necklaces. You can buy the beads at any local craft store near you, as well as the cord you use. I prefer the stretchy cord because it makes it easy to take them on and off. The craft store I always go to is Hobby Lobby because I love their unique variety of beads and the affordable pricing. Crystal necklaces are even easier to make. All you have to do is take a crystal, and throw it on a chain, and they have such a nice look. String bracelets are fun to make too. You can never go wrong with any color combinations. All in all, there are many different types of jewelry to make with several different types of beads, charms, strings, and so on, that add to your look and are fun to make. Always remember to stay creative! 
Examples of some jewelry you may want to make: 
Crystal Necklace


Pony Bead Bracelet 


String Bracelet


Seed Bead Necklace 


Puka Shell Necklace