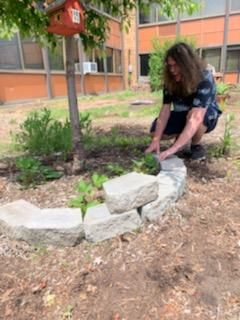 Courtesy of M. Polochak
Here at Lindenhurst High School we are fortunate enough to have a native garden. The Outdoor Garden Club takes care of the garden. The native garden is relatively new.  Mr. Polochak, advisor to the Science Club says, "The Native Garden was a project initially taken on by the Science Club in the 2019-2020 school year. COVID abruptly ended the progress. For the 2020/2021 school year the Science Club branched off to form the Outdoor Garden Club. The Outdoor Garden Club has been working on the Native Garden since September."
In the Outdoor Garden Club is run by a very motivated group of young people.  They are led by their President is Jake Kenjesky. The Vice President is Isabella Pedone, Treasurer is Sylvia Stasiak and secretary is Jessica Delaney.
Now where can you find the native garden? Mr. Polochak says, "The garden is in the rotunda courtyard. It is on the "LEFT" hand side. There is a display board and slate walkway." 
The native garden has many plants to attract birds and pollinators. Mr. Polochak says, "We designed the garden to attract native birds and pollinators. So for the birds, we planted high bush and lowbush blueberry, wild strawberry, and winterberry (to name a few). For native pollinators, like butterflies, beetles and bees, we planted butterfly weed, bee balm, cone flowers, seaside goldenrod, and many other flowering plants.  We chose plants that will bloom in the Spring and Fall so that the school community could appreciate the beauty of the garden."
As you can tell the garden has many plants. Will there be any more plants? Mr. Polochak says, "There is a small portion of the garden that still needs to be weeded and prepared for new native plants. That is a project for the 2021/2022 school year." 
Even if you are not an avid gardener, you must know a garden requires a lot of care and especially water. Mr. Polochak says, "The native gardens do not require a lot of water because of the way their roots grow. The plants we have are young and need to be established so, for now, they need some watering. We have in-ground sprinklers that are set to run. But again, once the plants grow a little bigger they will not need watering. The native garden is maintained by the Outdoor Garden club." 
What is the benefit of having a native garden here at LHS? Well Mr. Polochak says, "Planting a native garden not only supports our native plants but provides food and shelter for our native animals. Native plants are better adapted to our environmental conditions so they do not require as much watering as the non-native, sometimes invasive species of plants. Water is a precious resource for our island and it is wasted on non-native gardens."
Not only are there tremendous benefits of having a native garden, but there are sentimental reasons as well.  according to Mr. Polochak, "The garden was designed and created to honor Lee Paseltiner, an amazing teacher who was an ambassador for Outdoor Education. Mr. Paseltiner created the L.E.F.T. program, which provided incredible "hands – on" opportunities for students to learn about plants and animals at various Long Island locations. The Lindenhurst Environmental Field Trips (L.E.F.T.) created life long memories for generations of students." 
The Outdoor Garden Club is excited to see the many flowers, pollinators and birds this garden will attract and meetings are held Wednesdays after school. The club has big plans for using the garden as an Outdoor Classroom for high school and elementary school students.