Netflix Show "The Babysitters Club" premiers Season 2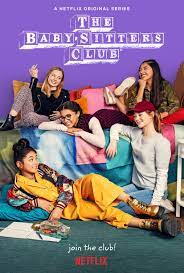 When Covid-19 started to die down a little, actors/actresses started to go back to doing what they do best. While some of us were still stuck at home banging our heads against the wall in quarantine, they were putting together more entertainment. 
Season one of the show "The Babysitter's Club" came out on July 3rd, 2020. It features well known actress Alicia Silverstone as the mother, and Elizabeth Thomas, plays the main character, Kristy. Most people know Silverstone as the icon Cher she played in Clueless back in 1995. 
The show is about a group of friends named Kristy, MaryAnne, Claudia, Stacy, and Dawn. They are middle school students who start a babysitting club. They babysit the children in their hometown, Stonybrook. Though on top of their club, character Kristy Thomas and her mom hit obstacles, mainly concerning her mom's relationship with Watson Brewer. 
With the release date of October 11, 2021, season two just arrived to Netflix and is currently number six on the top ten list, drawing in new audience members. 
In season one, character MaryAnne was kind of known as the "crybaby." Throughout the show she gains new levels of self confidence and empowerment in each episode. These characteristics really shine through in the second season as we watch the girls grow up and evolve their club. 
Unfortunately in season two, actress Xochitl Gomez, who plays Dawn, was unable to come back and film the new season with the rest of the cast. She was booked for another role in a new up and coming Dr. Strange movie. The casting team replaced her character with a new actress, Kyndra Sanchez. Xo still holds a place in all the cast members' hearts and still remains friends with the other girls in the club. 
It is a very family friendly, funny, and exciting show to watch. It is filled with too many emotions, and just an amazing comfort show to sit down and relax with. This season was a great addition to the show and left great suspense, keeping the audience waiting for the next episodes!