The Start Of Pelé´s Career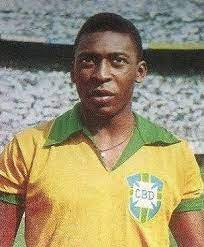 Formerly regarded as the best soccer player in the world, Edson Arantes Nascimento, or Pelè, is a retired Brazilian ambassador and mentor. He's a world-renowned athlete, but many of his fans may not know his incredibly interesting origin story.
On October 23, 1940, Pelè was born in Três Corações, Minas Gerais, Brazil. Since his family was impoverished, they lived in a slum in São Paulo. His parents, João Ramos do Nascimento and his mother, Celeste Arantes, did their best to raise him and his two siblings. Edson was given two nicknames by his parents, one being Pelé and the other being Dico, which means son of a warrior.
Pelè was first introduced to football by his father, who was also a football player for the some small clubs in Brazil. Since his family was poor and they couldn't afford a soccer ball for him, he would have to get creative and use things like grapes and stuffed socks with news paper inside of them. When Pelè was six years old, he received his first soccer ball as a gift. Pelè had to work hard a young child, working various jobs at a time to help his mother and father. As Pelé got older, everyone could see that he had a special talent for the sport. Pelé started playing in amature clubs in his early teens, like Sete de Setembro, Canto do Rio, São Paulinho, and Amériquinha. He started make up his own styles of football and using them in games when he was the only kid.
He mastered dribbling, passing, he had very fast pace, and he had almost mastered goal-scoaring. At the age of 14 Pelé was found by de Brito, who was a former player for the Brazillian team. De Brito saw something in Pelé and decided to take him under his wing and mentor him to be the best he could be.
Pelé went on to earn a spot with the national team of Brazil at the age of 16. Then, one year later, he played with the national team and made his debut on the international stage at the 1958 World Cup in Sweden. Pelé went on to win 3 World Cups in his life and retired at the age of 36 in 1977. Pele continued to be a world wide ambassador for football and mentor many others. Despite growing up in poverty he still worked hard and made something of himself. Many young boys and girls look up to Pelé until this day.