The life of tennis legend Billie Jean King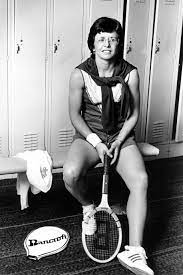 Billie Jean King, who is most notable for her tennis career and fight for equality in women's tennis, was born on November 22nd, 1943 in Long Beach California. From a young age Billie Jean King participated in sports, such as basketball and softball before starting to play tennis at local courts at age 11. 
By the 1958 King had already won the Southern California Championship in her age bracket, but what really helped her gain international attention was winning the Wimbledon doubles title with Karen Hantze Susman at only 18 years old. 
Although Billie Jean King knew she wanted to continue playing tennis after high school, no colleges offered athletic scholarships to women at the time. Despite this fact, King still attended California State University from 1961 to 1964, and not long after graduating King married law student, Larry King. 
While still participating in tennis tournaments, Billie Jean King was ranked the number one tennis player in the world in 1966, but she didn't stop there. In 1966, 1967, and 1968 she won the Wimbledon Ladies Singles Championship. She also won the U.S Nationals in 1967, and the Australian open in 1968. 
Eventually by 1968 tennis was finally declared a professional sport, and Billie Jean King finally got a chance to sign a 40,000 dollar contract with the National Tennis League. Although being contracted was a big step ahead in the tennis world, many women(including King) were still dissatisfied with how they were treated in large games like the Wimbledon and the U.S Open compared to their men colleagues, and they noticed the significant difference in prize money for men compared to women despite being contracted.   
To fight this inequality Billie Jean King and eight other women signed a contract for only $1, where they organized the Virginia Slims Circuit, and during this tour King became the first female athlete to make over $100,000 in a single season. 
In 1972 still seeing unequal prize money in many tennis tournaments, Billie Jean King recruited other women tennis players to create the Women's Tennis Association and even was its first president in 1973. 
Although what really helped King gain attention to women's rights in sports was her participation in a tennis match against former professional tennis player, Bobby Riggs. Bobby Riggs, who had been trying to prove that men's tennis was "superior" to womens tennis, offered to play King in a match. Although initially turning down the offer, King only accepted after Margaret Court(a colleague of Kings) took up the challenge and lost against him.  
The tennis match that would soon be called the "Battle of the Sexes" gained popularity globally, and even had 90 million people watching the game. In the end Billie Jean King won the match with straight sets and solidified the rightful place of women in tennis. 
Billie Jean King has since established the Women's Sports Foundation, founded World Team Tennis, and coached tennis teams for the Olympics, the U.S Fed Cup team, and the WTT(World Team Tennis). King also received the Presidential Medal of Freedom in 2009 for her continuous fight for equality in women's tennis and the LGBTQ community.
Overall Billie Jean King has had an incredibly positive impact on the women's tennis community fighting for equal rights and pay, and continues to make an impact on women's sports all over the world.