10 Creative Thanksgiving Desserts
It's November and you know what that means: Thanksgiving is just around the corner! Everyone knows Thanksgiving is the best holiday for food, so naturally, everyone is excited for all of the delicious food, especially the desserts! Pumpkin pie, cranberry sauce, and apple crisps are all classic Thanksgiving dessert dishes (for good reason), but sometimes it can be nice to try something new and interesting. Here are 10 unique Thanksgiving dessert ideas for you to try out this year!
---
1. Pumpkin Pecan Bread Pudding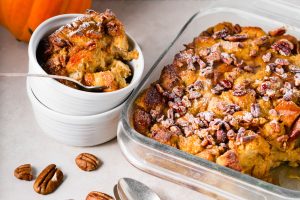 If you want a creative and tasty dessert option that certainly won't last long on the dinner table, this is a great option for you. It's a fun treat and it's seasonally appropriate as it combines some of the most classic flavors of Autumn into one!
Get the recipe on countryliving!
---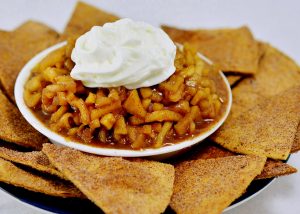 2. Apple Pie Salsa and Cinnamon Sugar Chips
Everyone knows that chips and salsa are as great as they are addicting, so why not try out the sweet version of chips and salsa? Your guests will surely be unable to stop themselves from devouring this sweet treat.
Learn how to make this on frostingandasmile!
---
3. Pumpkin Pie Popsicles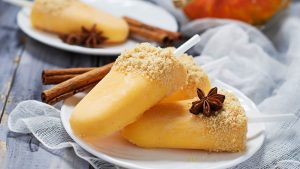 Pumpkin pie is truly a classic and staple dessert of Thanksgiving dinner. If you're looking to try something new and exciting without stepping too far outside your comfort zone, why not try making so pumpkin pie popsicles? It's a simple, yet fun, way to enjoy one of the most classic treats of the holiday. Who cares if it's cold outside? A popsicle never hurt anyone!
The recipe for these can be found on wideopeneats!
---
4. Apple Crisp Stuffed Baked Apples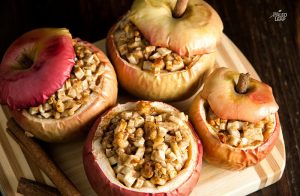 This creative twist on apple crisp is undoubtedly tasty and you could trick yourself into thinking you're being healthy. Who could possibly resist eating this Autumn flavor-bomb? This is clearly a very fun way of transforming a lovable, classic Thanksgiving dessert.
Make them by using the recipe on lifeinthelofthouse!
---
5. Caramel Apple Slices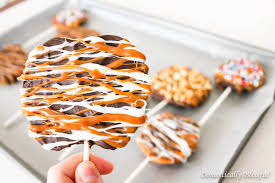 Carmel apples are delicious, but nobody wants to sit around struggling to eat a treat because they don't want to be covered in caramel and candy. So make caramel apple slices instead. They're just as great as normal carmel apples, but much easier to eat and enjoy.
The recipe for these sweet treats can be found on domesticallyblissful!
---
6. Apple Pie Egg Rolls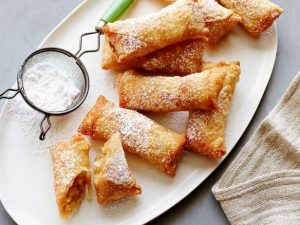 Yes these exist and yes they're as delicious as they sound. If you want the traditional taste of apple pie, but presented in a new and fun way, these might be a good option for you. They're a bit more difficult to make than some of the other options on this list, but ultimately, they're worth the extra effort.
Find out how to make these on justataste!
---
7. Pumpkin Spice Pretzel Bites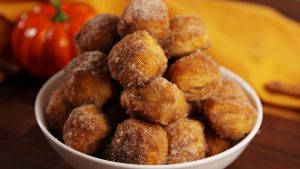 Yes, adding pumpkin spice to everything does seem to be a theme here, but that's kind of all it takes to make ordinary treats festively appropriate. Just because these are simple doesn't mean they don't deserve a space on your Thanksgiving dinner table.
Don't know how to make these? Not a problem! Find the super simple recipe on delish!
---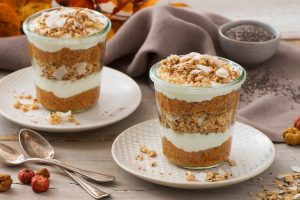 8. Pumpkin Pie Parfaits
When most people hear "vegan," they think salads and veggie burgers, but there is more to the vegan lifestyle than that. These pumpkin pie parfaits are sure to be a great addition to your dinner table and to please your dinner guests – even the vegans – after a long meal. Best of all, they're super simple to make and don't even require any baking!
Learn how to make them on ilovevegan!
---
9. Pumpkin Spice Latte Brownies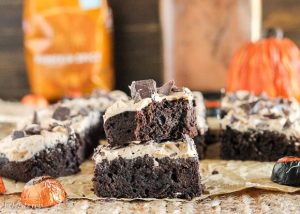 Brownies don't seem like a very creative dessert option, and they're not… unless you add some pumpkin spice! However; be careful making these if you've got a sweet tooth. Who could possibly resist the combination of chocolate and pumpkin spice? Make sure to save some for your family and friends.
Want to make these? You can find the recipe on bakerita!
---
1o. Pumpkin Spice S'mores Treats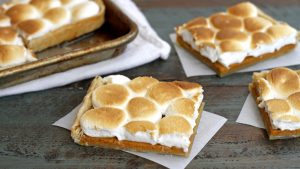 It may be too cold outside to light a campfire and roast some marshmallows, but that doesn't mean s'mores are off the table. If you've got a sweet tooth that can only be cured by marshmallows, try making some pumpkin spice s'mores treats. They're tasty, simple to make, and seasonally appropriate.
Find the recipe for these fun treats on tasteandtellblog!
---