Fallen Hero: Lindy's Lost Soldier
Picture yourself as a high school student in the 1960s. It was an age of revolutionary change in the United States as well as abroad. Sons and daughters were rebelling against their parents and a wave of rock n' roll music was sweeping over the world. It was a decade full of change which defied the laws of tradition in every American household. But behind the facade, there lies a darker, more sinister picture that gripped the nation with protests and violence. This was the height of the Vietnam War and the Civil Rights movement.
If you were an able-bodied young man born just after World War II, you were most likely able to serve in the Vietnam War which started in 1955. Small towns across the United States have their stories of young men who went to serve in the military and, who in some cases, never came back. This is the case for our own village too. Lindenhurst has forgotten our fallen hero who died in combat in the Vietnam War. He was said to have been the first man drafted in Lindenhurst to serve in the Vietnam War. That man was Robert Andrew Dorner, Lindenhurst's very own Marine who served in the line of duty during the Vietnam War.
According to Barbara Dorner, Robert's oldest sister, Robert initially had issues when he was born on September 24, 1946, in the Bronx, New York. "My brother had a tough birth. He lost three pounds overnight and was in an incubator for months" says Barbara. "Nobody picked on him but me, if anyone did, they had to deal with me." Sadly, Robert also suffered from autism while growing up as well. Barbara goes on to state that when Robert was in his early teens, he had a tendency to protect his home and family.  She once saw her brother pick up a misfit kid on the block who was a "pain in the you-know-what" as she stated, and saw Robert physically remove him from trespassing on their property. After that experience Barbara realized and stated to Robert, "Now you protect me."
When Robert was in Lindenhurst High School, he was well known for his role as an equipment manager for the Lindenhurst Bulldogs football team. "He was not an athlete per se", says Barbara. "He liked being apart of the block we were brought up on. They (the kids on the block) were very athletic. We enjoyed playing kickball and punchball." After high school, Robert was accepted to Farmingdale State College with an interest to pursue the Arts. "He was not exactly sure if that was what he wanted to do" stated Barbara. She said Robert seemed to think, "Well, I'm going to be drafted anyway, so why not just enlist?" It was not long until Robert enlisted into the United States Marine Corps on July 24, 1964. Barbara and the Dorner family were accepting of Robert's decision to enlist. Kevin Fowler, a close friend of the Dorner family, says, "Robert wanted to follow in his father's footsteps." Robert's father, Robert Dorner Sr. was a World War II veteran, serving in the Battle of Okinawa in Japan. In addition, his grandfather was also a German soldier in WWI.  "Robert wanted to be in the Marines because he thought that it would be even harder" says Mr. Fowler.
Mr. Fowler was lucky enough to have gotten ahold of Robert's Marine's uniform, which he donated to the Marines in Bayshore. He also had a football jacket which also belonged to Robert during his time at Lindenhurst High School. The jacket will soon be displayed, along with a portrait of Robert Dorner himself.
"
"He was a good kid, he was was a gentleman, he was very well-grounded."
— Barbara Dorner
Unfortunately, Robert Andrew Dorner died while fighting in Quảng Nam, Vietnam on March 24, 1966, at the age of 19. According to the US Veterans Affairs Office, while on a resupply mission to the defensive perimeter, the Marines were hit with a volley of enemy sniper fire from the Viet Cong. PFC Dorner was hit in the chest and killed as a result of his wounds. When asked about the Vietnam War, which ended 44 years to date, both Mr. Kevin Fowler and Ms. Barbara Dorner spoke out against the atrocities and involvement that the U.S. played in the war. "I'm against war," says Mr. Fowler. "I respect every soldier. Every time I see them, I thank them." Speaking out about warfare in general, Barbara stated, "We still haven't learned to get along."
PFC Robert Andrew Dorner will be remembered for his valiant role in American history as a soldier of the Vietnam War. We can learn from his experience lessons of bravery, determination, and courage. From a small-town boy to a lost memory in Lindenhurst's history, Robert shall not be forgotten.
About the Contributor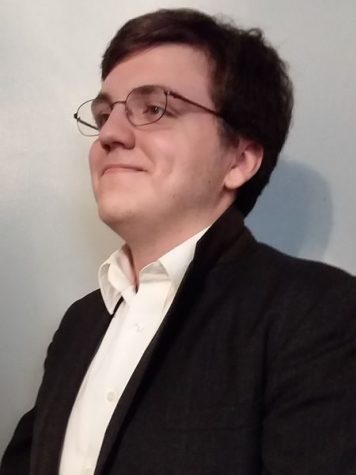 Edward Curry, Editor
Edward Curry has been writing for the Charles Street Times for more than two years. Initially joining the paper in 2017 as a Sophomore, Curry wrote various...