The Conspiracy Collection Reveal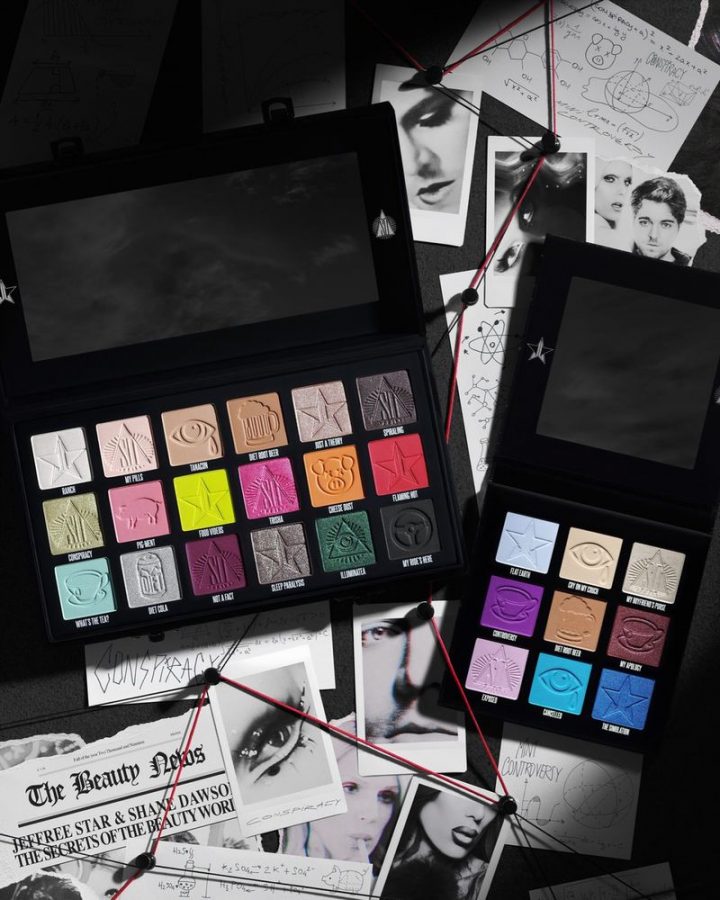 Surely all of you who have been keeping up to date with Shane Dawson's new Youtube series, "The Beautiful World of Jeffree Star," are well aware by now of the Jeffree Star x Shane Dawson Conspiracy Collection reveal.  I'm also sure that some of you out there signed into your Youtube account late at night after a long busy day, refreshed your subscription box, and were pumped to find the latest episode of Shane's series – which happens to be the collection reveal – but were not as excited to see that the episode happened to be over an hour long.  Everyone has super busy schedules, especially around this time of year. There is simply not enough time in a day to balance all of your priorities, right? For those of you that fall into this category, have no worries! If homework, sports, work, class council, and clubs take up the majority of your time but you are so desperate to know what the Jeffree Star x Shane Dawson collection entails, then you are in the right place.
Lots of trial and error went into the making of the Conspiracy Collection.  Certain eyeshadows were sent back to the labs multiple times to get the perfect pigmentation that Jeffree and Shane were looking for.  While the eyeshadows were being perfected, the packaging was being decided upon. The entire first round of packaging options was unapproved and sent back to the manufacturers to be redesigned.  With that being said, it's quite obvious that Jeffree and Shane wanted their makeup collection to be flawless. They put a lot of time and dedication into making their products for this collaboration.
After months and months of experimentation, Jeffree and Shane finally fabricated a collection that fulfilled their envisions.  They created the Conspiracy palette as well as the Mini Controversy palette, with eyeshadow pigments ranging from black to white: two truly colorful palettes that accurately represent both of them.  The Conspiracy palette contains 18 eyeshadows, while the Mini Controversy palette includes nine shades. Each eyeshadow pigment was pressed with the stamps that Jeffree and Shane had designed themselves – pigs, the Illuminati triangle, tea cups, and of course, the signature star logo.  Jeffree and Shane also created a liquid lip kit that consists of six extremely iconic colors. Finally, the makeup collection includes an individual clear gloss and an individual lip balm. But Jeffree and Shane didn't stop here. They went even further and designed merchandise to go along with their collaboration.  Jeffree and Shane will be selling pig-shaped makeup mirrors, pig-themed bags, makeup bags, and a tracksuit – how fitting!
The creation of this collection was quite the emotional rollercoaster for both Jeffree and Shane.  Tears of sadness and happiness were shed by both of them throughout the entire creation process. But despite the hardships that Jeffree and Shane endured throughout this entire series, the prosperity of the collection seemed to make all of the troublesome times fade into the background noise.  After watching this series, there is no doubt about how unbelievably excited and proud Jeffre and Shane are to launch their collection.
The Conspiracy Collection launched Friday, November 1st at 1PM EST.  Products can be purchased online at jeffreestarcosmetics.com, or at your nearest Morphe store.
Pricing
Conspiracy Palette: $52
Mini Controversy Palette: $28
Liquid Lip Kit: $90
Individual Liquid Lipsticks: $18
Clear Lip Gloss: $18
Lip Balm: $18
Entire Makeup Collection Bundle (includes makeup bag): $210
Pig-shaped Mirror: $30
Makeup Bag: $40
Tracksuit Jacket: $55
Tracksuit Pants: $45