Apple AirPods Pro
Are you considering buying the new Apple AirPods Pro? Read up on the upgrades and perks of Apple's latest release.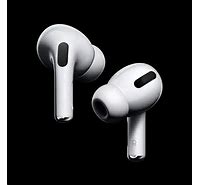 On October 30, Apple released a new and improved version of its famous AirPods. This being the third version of the original AirPods after releasing the second generation of the AirPods this past summer. That generation was highly similar to the first with the only difference being the newly updated charging case that is capable of being charged on wireless ports. However, there are a few key upgrades and changes that the AirPods Pro have that separate them from the first and second generations.
The main upgrade that Apple is presenting AirPod users is active noise cancellation. This relies on passive noise reduction in the ear tips. This only improves the sound you hear out of the AirPods because the outside noise is eliminated. This feature can be customized as the noise cancellation is capable of being turned on, off, or reduced in adaption to any situation for the user.
Secondly, AirPods Pro have custom ear tips. This is the first version of the AirPods that Apple has put out that is user-customizable. There are multiple different sized ear tips that are custom to the most common ear shapes. You may think that it might be hard to figure out and test each ear tip to find that one that will optimize your experience. But, Apple even released quick test audio that you can utilize in testing each ear tip, making the AirPods Pro, even more, user-friendly and personal.
The AirPods Pro is also water-resistant and contains an IPX4 chip. This is an improvement over other generations of AirPods that did not contain an IPX4 chip and were not as resistant to water as past generations. This makes the AirPods more friendly to water and they will be more resistant to sweat and in this case, rain. Worrying about your AirPods by the pool or any wet situation is now eliminated and this characteristic only makes them more user-friendly because of their resistance to everyday use.
Overall, the AirPods Pro seems to be a clear upgrade over the current generation of AirPods. But, they are priced at $250 which is a little high when compared to the $159 first-generation AirPods. Although they are more expensive, if you are looking for a more luxurious version of your current AirPods, making the upgrade is highly recommended. To true Apple fans, this price will be made light of when compared to the luxuries that the AirPods Pros have to offer.