The Perfect Prom Dress Awaits . . . Here's how to find it!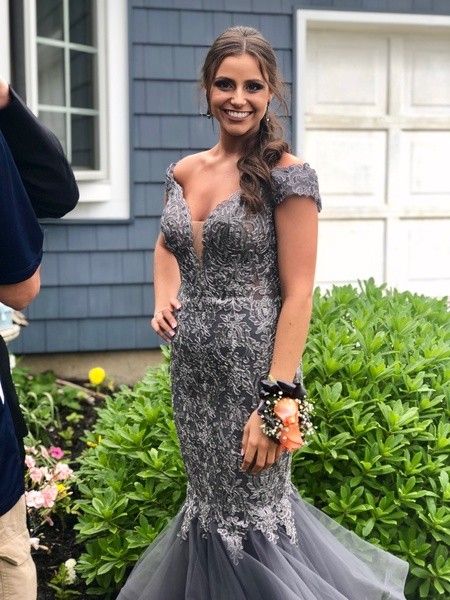 Prom: a formal dance held by a high school at the end of the academic year, typically for students in their junior or senior year – as defined by Google. As many of you know, prom is quickly approaching. Guys have it easy; all they have to do is rent a tuxedo, shower the day of prom, maybe put some product in their hair, and call it a day. Girls, on the other hand, have to book hair and makeup appointments, get their nails done, and maybe even get a spray tan. These are a bunch of activities that need to be done in advance. Of course, ladies, the determining factor in what type of hairdo to get done or what nail polish color to choose is the dress! Girls, this is the prime time to go dress shopping. Many of you may be feeling stressed out: you're not sure where to shop, you can't afford to spend hundreds of dollars, maybe you don't even know what color you believe will best flatter your figure. Don't stress! Below you will find the best places to dress shop followed by some helpful tips to keep in mind when dress shopping.
Dress Shops
Omnibus Fashions ($$$): This store is quite pricey, but year after year girls continue to buy prom dresses from here, because they have so many beautiful options in stock. But, be prepared: you may end up falling in love with a dress that is $600. It is located in Babylon Village, so it's not too far from Lindenhurst.
Eva Boutique ($$$): This dress shop offers a wide range of chic and stylish prom dresses.  The prices are slightly expensive, but the dresses are gorgeous and there are many designers to choose from. This boutique is located in Sayville, about a half hour away from home.
Estelle's Dressy Dresses ($$$): Estelle's is a place where many girls search to find their prom dress. The store is huge, and there are so many dresses to try on. Some dresses will be pricey, but Estelle's is great in the sense that you can really dig through the racks and find dresses that are more moderately priced. Estelle's is located in Farmingdale – not far from Lindenhurst at all.
La Chic Boutique ($$): La Chic Boutique has a wide range of dresses to try on. They have beautiful dresses in pretty much every color you can imagine, and all for decent prices. The staff is very kind and helpful. This shop is located in Seaford, so it's a little bit of a drive but nothing too crazy. 
Dress Gala ($$): This store is similar in pricing to La Chic Boutique. The dresses sold here are gorgeous. You will have plenty of options to choose from. The staff is sweet and very accommodating. Dress Gala is located in Commack.  It's probably about a half hour away, but the drive is worth it.
David's Bridal ($$): Here you can find a variety of dresses that are moderately priced. David's Bridal caters to people celebrating many different types of occasions, therefore the store has a wide variety of dresses to choose from. The closest David's Bridal shop is in Massapequa, which is not far at all. 
Windsor ($): Keep in mind that you don't have to go to a dress boutique in order to find a dress. Windsor, which is located in the Massapequa mall, sells quite a lot of prom dresses. If you can't necessarily afford to spend hundreds on a dress, check out Windsor. You can find a really pretty and unique dress for maybe just around $100. 
Tips
It is understandable to have the "ideal image" of the type of dress you want, the color you want it to be, etc., however, is it best to go into prom shopping with an open mind! Be willing to try different styles of dresses in different colors. Who knows – you may end up loving a dress in a color you never imagined yourself wearing.
Don't get stressed! It's very easy to feel flustered once everyone starts going dress shopping and sends their dresses in the prom dress group chat. Dress shopping is supposed to be a fun experience, so make sure you have fun with it. Bring your family members and/or best friends with you and enjoy feeling like a princess as you try on a bunch of dresses.
Don't feel pressured to buy a dress the first time you go shopping, especially if you are not in love with the dress you are about to buy. It's okay to not purchase a dress from the first store you shop at! Look around at a few different stores. When you find the right dress, you'll know.