Bronx Zoo Tiger Infected With Coronavirus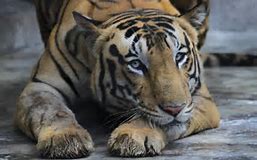 Recently, the first human to animal case of coronavirus was found, and it was a tiger. Nadia, a young tiger from the Bronx Zoo specifically. After showing some symptoms of the coronavirus such as a dry cough and a loss of appetite, the four year old tiger was tested for the infamous virus, and it came out positive. In addition, multiple other tigers have shown similar symptoms, but are all in good condition. This had some worried that they could spread the virus to their pets, and end up hurting them, or that their pets could be a way in which they themselves become infected. According to veterinarian Dr. Paul Calle however, this is not a concern and shouldn't cause any justifiable fear for one's own pet.
Cat's are clearly not very at risk for the virus because all cases have been very mild and while there have been a few reported cases of domestic cats getting covid-19, none of them have been substantiated so it really shouldn't be anything to worry about. Furthermore, the likelihood of spread through cats is discredited further when considering the vast number of people who have cats in america, and the unknown but presumably very large number of those who currently carry the virus, it would seem that a case with a domesticated cat should have already been inevitable. Some work has been done on feral cats from Wuhan in which coronavirus antibodies were found in the cats' systems; however, even with this there is no proof that animal to human spread is possible through normal circumstances as it has not been observed according to the World Organization for Animal Health. Though they do warn people to keep a distance from their pets if they are sick just as a precaution. 
All in all as long as you aren't sick, it seems perfectly fine to continue the same routine with your pet as you normally do.  And of course as it must be said, social distancing is as important as ever as Suffolk county has recently become the epicenter of the entire coronavirus pandemic.