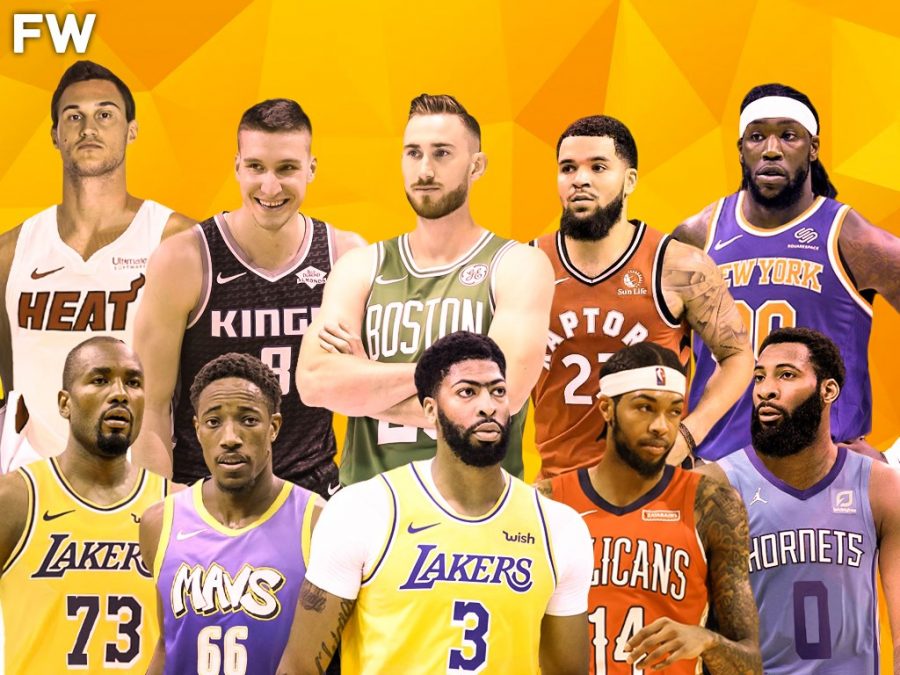 Photo via Fadeaway World
The 2020-2021 NBA offseason is shaping up to be one of the best that we have had in recent years. With the reigning MVP hitting free agency and the slew of intriguing prospects eligible for this year's draft, every team around the league will be looking to improve their rosters. With this being said, in this article, CST Co-Editor in Chief Joseph Frescott will discuss what you should expect as we head into the 2020-2021 NBA Offseason. 
Lakers Resign AD
Basketball fans around the world were not surprised when the Los Angeles Lakers defeated the Miami Heat in 6 games to capture the franchise's 17th NBA Finals this past season. The Lakers were the favorite to win going into the season, and it was not shocking that they were able to win, despite the delay in the season and the bubble. As far as next season goes, it is safe to assume that Anthony Davis will be signing an extension to resign with the Lakers. With both AD and Bron taking up max contracts, it will be difficult for them to make any other big free agent moves. This could be an issue moving forward, as the team as it is constructed now is very unlikely to repeat. Relying heavily on the outstanding play of LeBron James and Anthony Davis, the rest of the Lakers roster was underwhelming at best. Their poor play has made it clear that the two headed monster in LA needs either a third running mate or a couple of quality role players. With this being said, the only way the Lakers can do this is by convincing a star (someone like Danillo Gallinari or Fred VanVleet) to take a pay cut, or sign a bunch of quality role players like Joe Harris and Tim Hardway to smaller deals. If they are all to pull off one of the two and improve their roster, don't be surprised if they are right back in title contention next season. 
The Warriors Trade for Another Superstar
The Golden State Warriors are coming off one of their worst seasons in franchise history. With injuries keeping Steph, Klay, and Draymond out for a majority of the season, they finished as the worst team in the league. Because of their terrible record, they were able to acquire the second pick in this upcoming draft. Having such a high pick gives them a lot of flexibility in terms of what they want to improve their current roster. Essentially, they have three options: keep the pick and draft a potential superstar, trade the pick away for more future assets, or trade the pick away for a superstar in an attempt to make another championship run. Out of those three options listed above, the consensus is that the third possibility is the most likely. With Steph, Klay, and Draymond all on the wrong side of 30, the Warriors organization is aware that these next few seasons may be the last years of each of these superstars' primes. Knowing this, you would assume that they would have a championship or bust mentality, which is why they will go out and grab another star. Luckily for them, there are plenty of disgruntled stars that they can acquire at the right price. Two that come to mind immediately are Bradely Beal and Ben Simmons. In both trade packages, the Warriors would have to give up Andrew Wiggins, their second pick, and possibly another pick in order to get either of them. Either of these trades would make them immediate title contenders (if not favorites), and would drastically shake up the league. 
Giannis Stays in Milwaukee
Possibly the biggest question mark going into this offseason is where will the back to back league MVP play next season. Giannis is coming off a phenomenal regular season that saw his team at the top of the East heading into the postseason. However, as we all know, the Bucks were upset in the second round by the Miami Heat. While some speculated that Antetokounmpo was injured during this series, whether injured or not, this disappointing end to their season only makes Giannis' decision this offseason even more unpredictable. Some of the most probable suitors for Giannis include the Mavericks, Heat, and obviously resigning with Bucks. Although all three of these options make a lot of sense, Giannis Antetokounmpo will return to Milwaukee and remain loyal to the team that drafted him. The team that Milwaukee has put around Giannis is a few pieces away from a championship, and Giannis should have faith that the front office will make the moves needed to give him the best chance at a ring.
Demar Makes his Return to Toronto
Demar DeRozan is one of the most slept on stars in the NBA. Ever since the blockbuster trade that sent him to San Antonio in 2018, he hasn't missed a beat, averaging 22 PPG while shooting 53.1% from the field. The 31 year old has already decided to decline his player option, and has plenty of options this offseason if he chooses to not resign with the Spurs. Teams such as the Heat, Hornets, and Bulls all come to mind as potential options, a team that many may forget is where he made a name for himself and his home, Toronto. The Raptors played exceptionally last season, overachieving greatly as they finished as the second seed in the East and lost a close series to the Boston Celtics. With Fred Vanvleet likely leaving this offseason, the Raptors will need to be in the market for another high level scoring guard, a guy like Demar. Although there may be bad blood from the trade two years ago, this move makes too much sense. The Raptors fans and organization love Demar, and he would be accepted with open arms if he was willing to make his return. 
Knicks Trade up for LaMelo Ball
The New York Knicks have been nothing short of a joke over the past few seasons. Finishing as one of the worst teams in the East yet again last season, it is clear that the Knicks need a lot of help. Luckily for them, they are a young team, and a lot of their best players last season were either rookies or second year players. Unfortunately, the Knicks were only able to land the 8th pick in this year's draft. Many believe that the Knicks may move up, as they have the draft capital and players to make this move. Moving up actually makes a lot of sense for New York, as they are in the desperate need for a star player that will bring some excitement to the franchise. This is why they will move up and draft the biggest name coming out of this draft, LaMelo Ball. There are a lot of question marks around LaMelo, but his undeniable scoring ability is something that the Knicks desperately need. With LaMelo projected to go in the top 5, the Knicks will have to move up to at least the 3rd pick if they want a chance at drafting the last Ball brother. Realistically, New York will most likely have to do a trade with a team like the Warriors, who are still pushing for another title run . In any of the possible trade scenarios, the Knicks would likely have to give up this years and next year's first round picks, which is a lot considering that they probably will have a top pick next season as well. However, if the Knicks truly believe that LaMelo can be the savior of the franchise, then giving up such assets will be more than worth it.