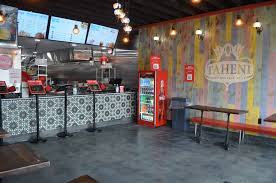 Courtesy of J. Kelly
Add a new spot to get your next meal from in Lindenhurst. The newest food spot is named Taheni Mediterranean Grill, located on Montauk Highway in Lindenhurst, right by the Great South Bay Shopping Center. This new food spot offers a different and unique style of food, one that many of other food spots in Lindenhurst don't offer, and that's why it's primed to be a hit throughout town.
The Lindenhurst Taheni is the third Taheni to open. The first came in 2017 in Brooklyn located on Fourth Avenue. The second one opened in Midtown Manhattan, with the Lindenhurst spot being the third. A fourth one is expected to be opening in East Northport for 2021. 
The style of food is extremely unique compared to other food spots in the area. Lindenhurst High School Senior, John D'Amato, is one of the workers at the new Lindenhurst location. When asked about the food, he described it as, "Authentic homemade, Mediterranean food that is made fresh." He goes on to also say that the "Falafel is the best and most authentic around." The menu features multiple varieties of food as well, where you can build your own pita sandwiches, your own wraps, platters and salads. 
Taheni Mediterranean Grill is a new great addition into the food business in our community. It offers a unique style of food that has not been seen in our community enough. The Grill is located at 296 E Montauk Hwy, Lindenhurst, NY, and is open 11AM-9PM, seven days a week. You can also order food from the grill through delivery services such as Uber Eats, Grubhub and Seamless.