Tampa Bay Buccaneers
The Tampa Bay Buccaneers were one of the most hyped up teams going into the 2020 NFL season. With the amount of build up surrounding them, they were bound to disappoint, and so far this season, they have done exactly that. Heading into their bye week, the Bucs have played seven teams with winning records, and have only won two of those games. That statistic alone summarizes Tampa Bay's season this year. Despite having one of the most talented rosters in the NFL, they haven't been able to win their difficult matchups.
There are plenty of reasons why they have struggled so far this year. First and foremost, with training camps significantly shortened, it doesn't seem that the Buccaneers had enough time to develop the chemistry needed between their key players and personnel.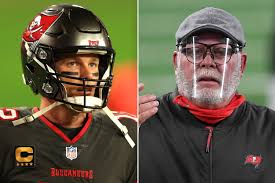 However, it is important to note that this is not the only issue facing the Buccaneers. The biggest problem facing Tampa Bay right now is a lack of identity on the offensive end. This is essentially a result of the power struggle that exists between Quarterback Tom Brady and Head Coach Bruce Arians at the moment. Arians, who recruited Brady to Tampa, has been very stingy in terms of the way he wants the offense to run, as he favors a pass happy vertical offense. This offense is not one that Brady is accustomed to running, as he has relied on a run heavy play action offense over the past few seasons. Because of this, Brady has played very poorly, throwing a career high 11 INTs through 12 games. This issue, which seems like an easy fix, is one that we probably won't be addressed this season, as Arians has continued to put the blame on Brady and his lackluster performance rather than taking any accountability for the poor play calling. Unfortunately, although they have one of the best rosters on paper, it is not likely that the Bucs are able to fix these issues by the time the playoffs come around. Expect an early exit for Brady and Co. come January. 
Cleveland Browns
After getting blown out week 1 by the Baltimore Ravens, Cleveland looked like it was on its way to another losing season. Nevertheless, they shocked NFL fans across the league when they went on a five game winning streak following that initial defeat. Now sitting at 8-3, Cleveland has all but locked up their first playoff appearance since 2002. This unexpected success can be accredited to their outstanding defense, led by DPOY candidate Myles Garrett. Their offense has been very good as well, with the RB duo of Nick Chubb and Kareem Hunt carrying the attack.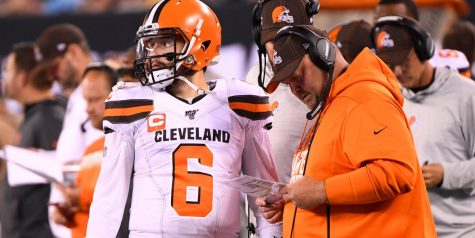 With a top 10 defense and the best RB duo in football, one would assume they would automatically be considered contenders. Unfortunately, they aren't there just yet. The main reason for this is that Quarterback Baker Mayfield has yet to take that step forward this season. Although he has been a lot better at taking care of the football so far this year, he has essentially been a game manager reliant on a dominant run game through the first 12 weeks. When Baker has been forced into throwing situations, he has been mediocre at best. If the Browns want to make a playoff run, they need Baker to be great, which is something that is unlikely to happen. Moreover, when looking at their schedule, they haven't really been tested yet this season. Their only great win came against the Colts, while their losses have come from the two best teams they have faced, the Steelers and Ravens. With the hardest part of their schedule still to come, the Browns are a team that could very easily fall in the AFC playoff race. 
Seattle Seahawks
It may come as a surprise that the Seahawks were included in this. With an 8-3 record, the #2 seed in the NFC, and an MVP candidate at QB, the Hawks seem to have everything going for them. Despite this, they are not true contenders in the NFC. The reason for this is three words: Defense. Wins. Championships. Seattle has one of the worst defenses in the entire NFL. Because of their poor defense, the Seahawks have been reliant on Russel Wilson and their high powered offense to win them games every single week. As we have seen in each of their 3 losses this season, if the offense is even slightly underperforming, they have little to no chance of winning.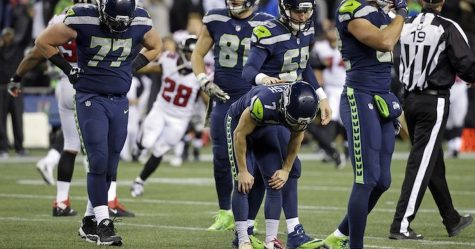 As we have seen throughout the history of the NFL, this style of football does not win Super Bowls. Teams such as the 2015 Broncos and the 1998 Vikings are two prime examples of all-time great offenses who couldn't win the big game. As we saw for both of those teams, when the offense isn't clicking, the defense was incapable of stopping the opposing team. This trend has been seen throughout the Seahawks season, and is inevitable come playoff time. Expect the Hawks to be upset early in this year's playoffs.