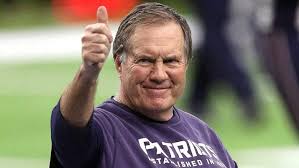 NFL free agency has been wild so far. This is the period where teams can turn around in either a positive or negative way. Signing that one key piece could be crucial for a team and it could make or break a season. Being almost a week into free agency, teams have gone ahead and made some big moves. Some teams have gone all out, and some have lost a lot. Here are the biggest winners and losers of free agency so far.
Winner: New England Patriots
The Patriots have been infamous over the last decade for not going out and making big free agent moves. But this year was different. After a disappointing 7-9 season in their first season after losing Tom Brady, Bill Belichick was out to turn this team around quick. 
Belichick made the first big splash of free agency by grabbing Tennessee Titans tight end Jonnu Smith. A big, athletic vertical threat is just the weapon that this depleted Patriots offense needed. The Patriots also went and grabbed Los Angeles Chargers tight end Hunter Henry. Henry is also a reliable target, putting up 613 yards and 4 touchdowns in 14 games last season. 
The Patriots also addressed their problem at wide receiver. Nelson Agholor and Kendrick Bourne were both brought in on great deals. These two could be dangerous and both have the ability to step up and become the wide receiver #1 the Patriots so desperately need. 
On the defensive side of the ball, the Patriots also made some big moves. They signed 2x Pro Bowler Matthew Judon from the Ravens. Judon recorded 32 tackles and 6 sacks in 2020. Cornerback Jalen Mills was also signed. Mills was the number one cornerback in his tenure with the Eagles, and will join Stephon Gilmore, JC Jackson, and the McCourty twins in a loaded Patriots secondary. 
There have also been some reunions. Cam Newton was re-signed to a one year deal, and may return as the starting quarterback. They also brought back linebacker Kyle Van Noy, who was a key piece of their Super Bowl 53 championship team.
The Patriots look to have reloaded. The real question now is which direction they will go in the draft. Kyle Pitts doesn't seem to be in their sights. A quarterback like Justin Fields or Trey Lance could be the future of the Patriots. 
Loser: Seattle Seahawks
Though they didn't trade their franchise quarterback, Russell Wilson, the Seahawks still really lost out in free agency so far. But keeping Wilson even though the Bears sent the house to them is a big win.
So how could the Seahawks be losers? The rest of their division seems to get better and better, as they sit back and wait around. This seems to be what frustrates Russell Wilson. 
As the Seahawks have kind of sat back in free agency, the rest of their loaded division seemed to have gotten better. The Rams traded for Lions quarterback Matthew Stafford, which is a huge upgrade given the weapons they have. The Cardinals added veterans A.J. Green, J.J. Watt, and Rodney Hudson. These three will help Kyler Murray lead a primarily young Cardinals team. And the 49ers re-signed left tackle Trent Williams, who has played a major role in their run based offense. 
This is why Russell Wilson is becoming frustrated. A loaded division is going to beat up on the Seahawks if they don't make a move. If they don't make a move and they underperform this year, that could be the final straw for Russ, and he may leave the team he made great again. 
 Winner: Tampa Bay Buccaneers
The reigning Super Bowl Champs continue to win. Many key pieces of their championship team were set to hit free agency this year. They were able to get most of them back so far. 
Rob Gronkowski, who played a major role in their Super Bowl win over the Chiefs, re-signed on a one year deal after teasing that he would test free agency. This is a typical Gronk thing to do. He fooled almost nobody, as everyone knew he wouldn't leave Tom Brady.
Tampa franchise tagged wide receiver Chris Godwin. Godwin had 840 yards and 7 touchdowns on a talent rich Bucs offense this past year. Godwin's franchise tender is worth $15.9 million.
The key to their postseason success was their defense. So they went ahead and re-signed linebacker Shaq Barrett to a multi year deal. Barrett, who had the franchise tag placed on him last year, put up a franchise record 19.5 sacks in their 2019 campaign. He was definitely well worth the large paycheck. 
The only thing left to do is to bring back wide receiver Antonio Brown. Brown has a great relationship with Tom Brady and has potential to put up 1,000 yards next season. Joining the Bucs about halfway through last year, Brown put up 483 yards and 4 touchdowns. 
Loser: Tennessee Titans
Throughout the last half of last season, the Titans were pointed out to be pretenders, and that quarterback Ryan Tannehill was not a solid starter. Relying heavily on Derrick Henry, their passing game and defense was ranked in the bottom half of the league. 
The signing of former Steelers defensive end, Bud Dupree, was great for them. But how much of an impact will he really make? Dupree had 2 forced fumbles, 8 sacks, and 31 tackles in 11 games last year. 
But with this one great signing, there have been many losses. Especially to their passing game. Taking tight end, Jonnu Smith, was bad for this team. Smith only had 448 yards and 8 touchdowns last year, but this is a team that runs the ball 30+ times a game. So Smith is prone to get less targets. This shows how impactful he really is when he gets the ball in his hands. 
Losing wide receiver Corey Davis to the Jets hurts the Titans even more. Davis was their top receiver last year, putting up 984 yards and 4 touchdowns. Once again, this is impressive given the Titans are a run based team.