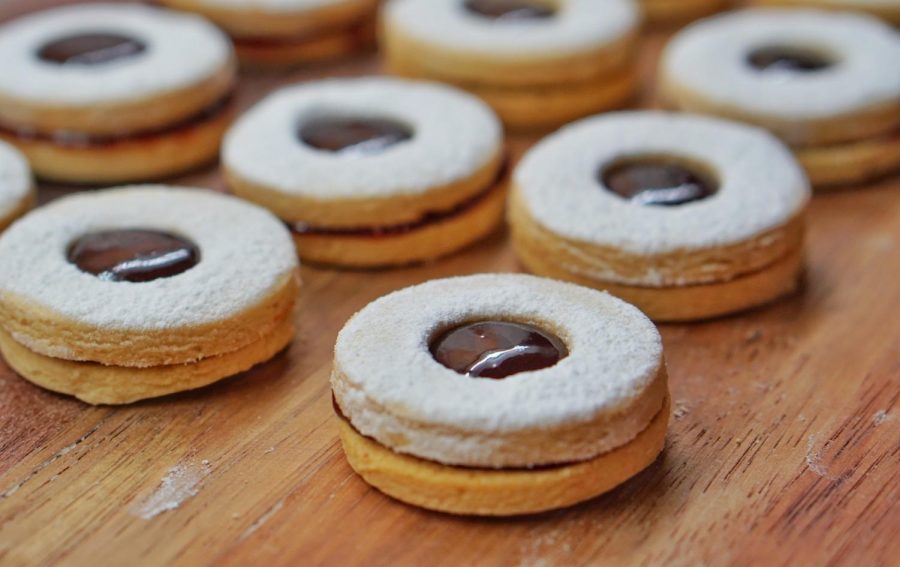 Christmas Cookbook Recipe #2- Linzer Tarts
Linzer tarts are appetizing cookies that are a favorite around the holidays. The delicious treats originated in Linz, an Austrian city,  but have adapted to the American lifestyle.These cookies are named after the Linzer Torte, which is a pastry which has a dough lattice over jam filling.  Linzer Tarts are a staple on the Christmas Eve dessert table and are enjoyed year round. Take some time this holiday to make these fun and tasteful cookies! 
Ingredients: 
Serving size: 20 cookies 
2 Cups of all purpose flour

2 sticks or 1 cup of softened butter (room temperature)

⅔ cup granulated sugar 

½ teaspoon of vanilla extract 

⅔ cup finely ground almonds

¼ teaspoon ground cinnamon 

½ cup seedless raspberry jam 

1 egg

1-2 teaspoons of confectioner' sugar
Tools: Electric mixer and Cookie Cutters 
Instructions:
To make the cookie dough, you want to combine the flour, almonds and cinnamon in a small bowl and then set aside. 

Beat butter and sugar with an electric mixer in a large bowl until it's light and fluffy. 

Add the egg and vanilla extract and mix well

Add the flour mixture to the butter mixture and mix only until combined 

Divide cookie dough into 2 even pieces and press into two disk-shaped circles, around 1 inch thick. Wrap each section of dough and refrigerate for 2 hours until firm 

Preheat the oven to 350 degrees fahrenheit. Roll out one section of dough ⅛ inch thick on a floured surface. (keep remaining dough chilled) 

 Cut out half of the rolled dough using a cookie cutter with your chosen middle insert, as these will be the top cookies. 

Then cut out an equal number of the top cookies using the same cookie cutter, these will be the bottom cookies. 

Transfer the cut outs onto baking sheets with parchment paper. Dough scraps can be formed into a new disk and chilled for at least 30 minutes and re-roll.  

Bake the cookies for 10-12 minutes  or until light golden brown, and let cool on a wire rack for 2 minutes. 

To assemble and decorate, flip the bottom cookies and spread a teaspoon of jam of choice or chocolate spread on each

Dust the top cookies with confectioners' sugar before putting it on the bottom cookie 

Lastly, Gently sandwich the two cookies together with dusted cookie on top and jammed cookie on the bottom 
To store these cookies, keep them at room temperature, and to freeze baked cookies use parchment paper to separate each layer of cookies. Enjoy! 
https://www.wilton.com/classic-linzer-cookies/WLRECIP-367.html
Donate to The Charles Street Times