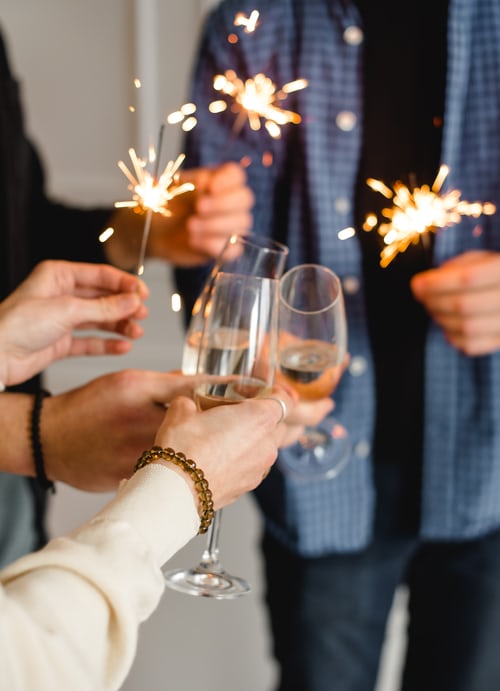 New Year's Eve Recipes!
As New Year's Eve approaches, you are going to want to have fun desserts for all your friends to ring in a delicious new year! So, here are two festive New Year's Eve desserts for everyone to enjoy! 
Champagne Glass Cupcakes (makes 24 cupcakes) 
1-box of your favorite flavored store bought cake mix or you can try this homemade chocolate cake recipe as follows:

2 cups of white sugar

1 ¾  cups of all-purpose flour

¾ unsweetened cocoa powder

1 ½ teaspoons of baking powder 

1 ½ teaspoons baking soda

1 teaspoon salt

2 eggs

1 cup of milk

½ of vegetable oil

2 teaspoons vanilla extract 

1 cup boiling water
Instructions:
Preheat the oven to 350 degrees fahrenheit. Line muffin pan with gold or silver foil muffin liners.

In a large bowl, stir together the sugar, flour, cocoa, baking powder, baking soda and salt. Add the eggs, milk, oil, and vanilla and mix for 2 minutes on medium speed of mixer. Stir in the boiling water last. Batter will be thin. Pour evenly into the prepared pans.

Bake 30 to 35 minutes in the preheated oven until the cake tests done with a toothpick. Let cool in the pans for 10 minutes, then remove to a wire rack to cool completely. Then, frost with your favorite store bought frosting.
How to assemble champagne glass cupcakes: 
Purchase 24 plastic champagne glasses (can be found at the Dollar Tree).

Purchase candies or gummy bears, whatever type of candy you like that mimics the color of champagne. Place these candies inside the champagne glasses ¾ of the way.

Place frosted and decorated cupcakes (decorate the cupcakes in a New Year's Eve theme, such as with edible glitter, gold and silver candies, or anything else your imagination can come up with) inside the champagne glasses. The base of the cupcake should rest on the candies inside the glass.

Serve to your guests!
Midnight Kiss Cookies (makes 24 cookies)
½ cup granulated sugar

½ cup brown sugar

1 stick butter soft (½ cup)

½ cup peanut butter

1 large egg

2 tablespoons milk

1 teaspoon vanilla extract

1 ½ cups all purpose flour

¼ cup cocoa powder

1 teaspoon baking soda

1 teaspoon baking powder

Hershey's Kisses (the hugs or cookies n' cream ones-something light in color)

Gold sprinkles

Edible gold color mist
Instructions:
Unwrap about 24 Hershey's Kisses and use the edible gold spray paint to spray them gold. 3 coats should be sufficient. Decide if you want to add gold sprinkles to some of the Kisses. If so, spray them 3 times and after the 3rd spray, quickly roll each Kiss in a bowl of gold sprinkles.

Allow the Kisses to dry completely before adding them to the cookies.
Preheat the oven to 375 degrees Fahrenheit.
In a mixed bowl, combine the sugar, brown sugar and butter. Beat with an electric mixer for 1 minute until smooth and fluffy. Add in the peanut butter, egg, milk, and vanilla extract and beat again for less than 1 minute. Add in the flour, cocoa powder, baking soda and baking powder and mix with a spatula just until there are small flour streaks left–it's okay if the batter has clumps. Be careful not to over mix.
Use a small cookie scoop to form 24 balls from the dough. Place the cookies on a silicone lined baking sheet and bake for 10-12 minutes or until the edges of the cookies begin to crack slightly. Bake the cookies in batches so you don't crowd the baking sheet.
Add a Hershey's Kiss to the center of each cookie as soon as they come out of the oven. Allow the cookies to cool completely before serving.
Enjoy!
Donate to The Charles Street Times