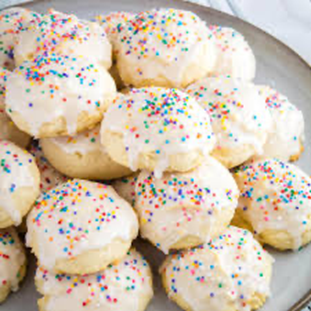 Christmas Recipe
Italian Ricotta Cookies
The recipe is adapted from: https://www.cookingwithnonna.com/italian-cuisine/ricotta-cookies.html
INGREDIENTS
For 5 Dozen:
For the Cookies:
2 cups sugar
1 cup butter, softened
1 pound ricotta cheese
2 tablespoons vanilla extract
2 large eggs
4 cups all-purpose flour
1 tablespoons baking powder
1 teaspoon salt
For the Icing:
2 cups powdered sugar
3 tablespoons whole milk
Christmas sprinkles for decorating
STEPS
Cookies:
1) Preheat the oven to 350 degrees F.
2) In a large bowl, with a mixer at low speed, beat sugar and  butter until blended.
3) Increase speed to high; beat until light and fluffy, about 5 minutes.
4) At medium speed, beat in ricotta, vanilla, and eggs until well combined.
5) Reduce speed to low. Add flour, baking powder, and salt; beat until dough forms.
6) Drop dough by level tablespoons, about 2 inches apart, onto an ungreased large cookie sheet. Bake for about 15 minutes or until cookies are very lightly golden (cookies will be soft).
7) Bake all your cookies.
Icing:
1) In a small bowl, stir powdered sugar and milk until smooth. With a small teaspoon, spread icing on cookies. Decorate with Christmas sprinkles.
2) Set cookies aside to allow icing to dry completely.
NOTES
-Can also make with almond flavoring or lemon flavoring!
Donate to The Charles Street Times