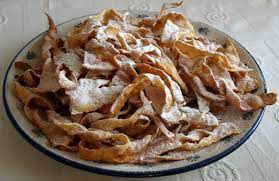 Khrustyky
Learn how to make Khrustyky, a famous Polish delicacy often enjoyed during the holidays! Khrustyky are known as "Angel Wings" in English.
Ingredients:
2 large eggs (room-temperature)

3 large egg yolks (room-temperature)

1 tablespoon vanilla extract

2 tablespoons sugar

1 tablespoon heavy whipping cream

½ teaspoon salt

1 ½ cups flour

Confectioners' sugar

Oil for deep-fat frying
In a large bowl, beat the eggs, egg yolks, vanilla, and cream. Next, beat in the sugar. 

Combine the flour and the salt, and stir into the egg mixture until smooth (the dough will be soft). 

Divide into 4 parts.

On a well-floured surface, roll out 1 portion to 1/8-in. thickness. Cut it into 1 ½ inch strips, and cut strips diagonally into 3 pieces. 

Cut a 1 ½ inch slit lengthwise into the center of each piece 

Pull 1 end of the strip through the slit to make a loop. 

Cover shaped pieces while rolling out and cutting the remaining dough.

In an electric skillet or deep cast-iron, heat about 3 inches of oil to 375°. 

Fry the pastries in batches until golden brown, turning once. 

Drain on paper towels. 

Dust with confectioners' sugar.

Enjoy!
Donate to The Charles Street Times