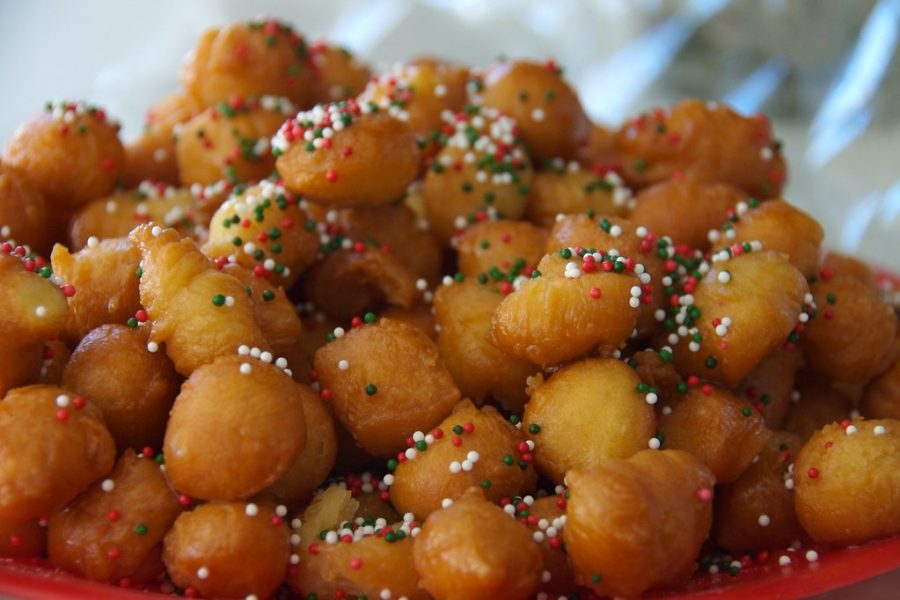 Struffoli
A classic Italian-American dessert, Struffoli, is known for being an all time favorite during the holidays. Not only can someone with an Italian heritage enjoy these delicious honey balls, but people from all over the world can dive into these mounds of pure joy (and sugar). Small balls of dough are deep fried to perfection, coated with a sweet honey syrup, and finished off with rainbow sprinkles. The prep time for Struffoli takes about 40 minutes, with a cook time of 15 minutes, and serves between 6-8 people.
      Ingredients:
2 tablespoons unsalted butter

1 orange

1 lemon

2 cups all-purpose flour

3 tablespoons granulated sugar

1/2 teaspoon kosher salt

1/4 teaspoon baking powder

3 large eggs

1 teaspoon vanilla extract

3 cups canola oil

3/4 cup honey

1 tablespoon orange juice

Rainbow sprinkles
    Instructions:
Cut the 2 tablespoons of butter into ½ inch pieces, and leave out to soften.

Zest orange (2 teaspoons) and zest lemon (1 ½ teaspoons).

Add flour, granulated sugar, the orange and lemon zests, kosher salt, and baking powder into a food processor. Pulse a couple of times before adding butter to your mixture.

Add butter and pulse a few more times until it's fully combined with the dry ingredients.

Add in your eggs and vanilla extract, prior to pulsing 15 more times to see your mixture form into a ball.

Remove your dough from the food processor and form it back into a ball form. Wrap your ball in plastic wrap and refrigerate for 30 minutes.

Dust your baking sheet and work space with flour, before cutting your dough into 8 pieces. Roll out each piece to a 10-12 inch long rope. (Make sure your rope is ½ inch thick) 

Cut your ropes into ½ inch pieces with a knife, and you should end up with 20-24 small pieces of dough. Roll each one to look like a marble, and place it onto your baking sheet.

Heat your canola oil in a saucepan over medium-high heat until 350°F, for about 10 minutes. In the meantime, grab another baking sheet and line it with paper towels.

Carefully add your dough balls to the oil once it's ready. (Make sure to separate them into 4 batches) Stir it around for about two minutes, and you'll know it's ready once they are golden brown and puffed up. Use a slotted spoon to remove the fried balls from the saucepan, making sure to shake off any excess oil, before placing them onto the paper towels.

Repeat the last step with your three other batches of dough balls.
Add honey and orange juice into a larger sized skillet over medium heat, and stir for about 1-2 minutes. Texture should be syrupy once done.

Add all of your fried dough balls into the skillet together. Turn of the heat and toss the balls around the honey till they're fully coated. Then let them cool down for a few minutes.
Before you assemble your Struffoli, make sure to coat a glass pan with cooking spray, then place the honey balls into the pan, in either a mountain or wreath shape. Drizzle any extra honey on top of the balls, just for that extra sweet taste. Last but not least, never forget to garnish your honey balls with rainbow sprinkles. Let them sit for 10 minutes to cool down a little longer, and enjoy your Struffoli.
Donate to The Charles Street Times