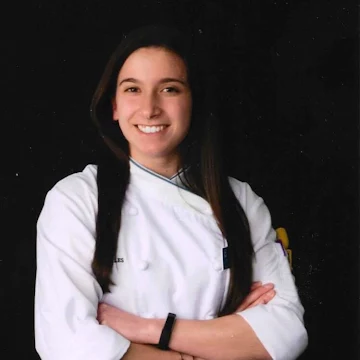 Ms. Pastore
      For being only two months into the school year, great things have been heard about the new Baking and Culinary class teacher, Ms. Pastore. 
         Ms. Pastore went to Johnson and Wales University for baking and pastry arts. Throughout her time in college, getting her Master's Degree, she never intended on being a teacher. "I never wanted to be a teacher growing up, it never was a thought in my mind," the classically trained pastry chef says. 
         Throughout her courses in college, she observed how much enjoyment the chefs had for teaching others how to cook. She soon came to a realization that she would be interested in helping others find a love for cooking just how she did. "I also realized how many of my friends who went away to college didn't know how to cook for themselves once they got there. I wanted to try to change that!" she states in the interview. 
          Sharing her culinary knowledge and experiences as a trained pastry chef is extremely important to her. Eating is a necessity everyday, and it is important people at a young age learn how to cook for themselves. Learning how to cook is a skill that students can carry for the rest of their lives.
           An additional importance in her life is to teach students to have a more positive relationship with food. A direct quote from this inspiring chef is, "Also, there are many young adults who grow up with or develop a negative relationship with food. I wanted to teach so I can help students learn how to have a positive relationship with food,". This quote alone represents how important her students are to her and their future.
         Sadly, the culinary profession can often be thought of as a "last resort" by many. Ms. Pastore wants all of her students to be sure to know the art of a culinary profession is never a last resort. "I want to help change that so students know about these different career options after high school and how great they are," she says. 
          This talented chef, teacher, and baking business founder of You're Bakin' Me Crazy has only good things to say about Lindenhurst High School. "I love Lindenhurst High School so far! All of the teachers I have met so far have been very welcoming and helpful," says Ms. Pastore.
           Overall, this new teacher has felt very welcomed here at Lindenhurst, and truly has a lot of experience in her profession. Be sure to consider taking her class in the future and check out her business, You're Baking Me Crazy!
Donate to The Charles Street Times