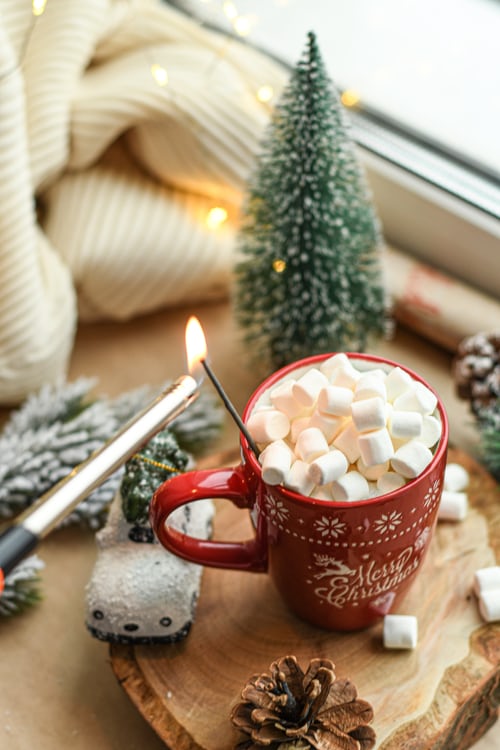 Christmas Eve Traditions
Celebrating the holidays brings much joy to all, and I can tell you that it for sure brings my family and I a lot. I love getting together with my family, giving gifts, and celebrating life. My family does most of the holiday celebrating on Christmas Eve with plenty of holiday music, desserts, presents, and delight! 
On Christmas Eve, my cousins from my mom's side of the family come over to celebrate with us. They usually come over at around three in the afternoon. Once they arrive, my mom puts out the appetizers and she gets started on her famous crock pot hot chocolate. The crock pot hot chocolate is my favorite treat of the night! It does take a while until it is ready to drink, but all that time waiting is worth it. Around the time of dinner, I am usually playing a game, doing karaoke, or watching a movie with my cousins and brother…..The karaoke microphones my brother and I have is a fan favorite, so we usually end up using those over a game or a movie!
Dinner consists mostly of Italian traditional foods because my mom's side is Italian. My favorite dish that is made for dinner would have to be the baked ziti or the lasagna. There's usually a little "intermission" between dinner and dessert, which means it's time for the kids to play Just Dance, while the adults relax and chat. After the long wait for dessert, the best food yet, it is finally time to have some cookies, pies, ice cream, and any other sweet, delicious foods you can think of! This also means that it is HOT CHOCOLATE TIME! Don't forget to add some whipped cream on top of the hot chocolate and a candy cane.
My favorite dessert besides the hot chocolate would have to be either the snowball cookies, cheesecake, or cannolis (my favorite food ever). My mom makes these really good snowball cookies that I get so excited to have every year. When dessert is finished, that means it is PRESENT TIME, and who doesn't love a good present opening session. I love the excitement I get when I see all of the presents under the tree. All in all, the holiday season is a wonderful time of the year that includes plenty of celebrating, jubilation, and laughter.