Las Vegas Shooting Devastates Fans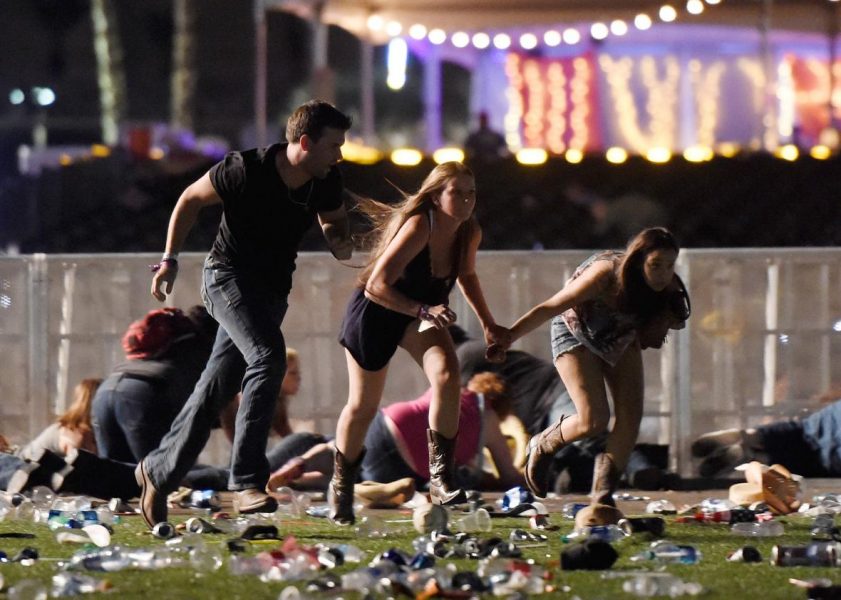 Last night, in Las Vegas, Nevada, a gunman unleashed a rapid-fire shower of bullets from his hotel room into the crowd of people attending the country music festival below. At least 59 people were killed, and at least 527 were injured, making this the deadliest mass shooting in recent U.S. history.
The shooter was identified by police as Stephen Haddock, 64. According to Sheriff Joseph Lombardo of Clark County, Haddock was found to have committed suicide in his hotel room on the 32nd floor of the Mandalay Bay Resort. In the room, there were over nineteen rifles and hundreds of rounds of ammunition. Two rifles had been set up on tripods and aimed out of windows that seemed to have been broken with something like a hammer. One official also stated that there was a camera set up in the room, presumably so Paddock could record himself.
The shooting had occurred while singer Jason Aldean was on stage. Another performer, Jake Owen, was only fifty feet away from Aldean when chaos broke loose.
"It got faster and faster, almost like it was an automatic rifle," he said. "At that point, everyone on stage started running everywhere."
Witness Gail Davis said, "I looked over to my right where this girl had been standing right beside me, and she had fallen– first, she stood there and grabbed her stomach and she looked at her hands and her hands were all bloody, and she was wearing, like, a little crop top, and you know, blue jean shorts and cowboy boots, and she looked at her hands and her hands were bloody, and she just kind of screamed and she just fell back."
The shooting was continuous and lasted for up to ten minutes. John Cohen, a former Department of Homeland Security undersecretary and former police officer, said that the gun used seems to be a fully automatic weapon based on recordings of the shooting. The manager of Guns & Guitars, Inc., where Paddock is said to have purchased some of his weapons, says they do not sell fully automatic weapons, only semi-automatic.
With an automatic gun, you pull the trigger once and rounds are fired quickly, one after the other. Cohen commented that the bullets "were coming out very quick, and you heard a large number of shots very quickly. That would be very difficult to do with anything other than an automatic weapon." He also went on to note that while it is not legal to buy fully automatic weapons, it is not difficult to alter legal guns so that they act as illegal ones would.
Authorities have denied the idea that Paddock has any affiliation with an international terrorist group. He also has no criminal history. As of right now, his motive for the murder is a complete mystery.
Clark County Commission Chair Steve Sisolak has set up a gofundme to assist the victims of the shooting. If you would like to share or donate, you can do so here: https://www.gofundme.com/dr2ks2-las-vegas-victims-fund