The Timothy Henderson Experience
    AP United States History and Psychology teacher by day, spear-fisher and marathon runner by night. More known as the eccentric middle-aged man who often wanders the halls of Lindenhurst Senior High School making conversation with his colleagues, Mr. Henderson is perhaps one of the most interesting intellectuals I have ever met. Sure, sit through one of his APUSH lectures, and you think that he spends his days hunkered down in an armchair reading 800 page books about World War II. You'd be surprised to hear that he gets chased by bull sharks and runs marathons in Death Valley for fun.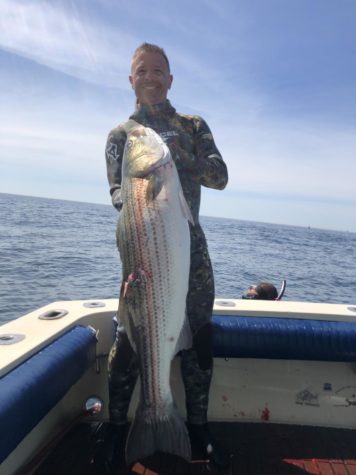 I find that most people take to water sports in a more relaxing manner. Jump into the pool, swim a few laps. Sit on the edge of the lake, and cast a fishing pole on a late Sunday evening. Heck, if you want to go crazy, you can snorkel on your vacation in the Caribbean. Mr. Henderson prefers to spearfish in his free time. Mr. Henderson first picked up the art of spearfishing when he attended a camp as a child, and when he saw people in the Shinnecock inlet spearfishing when he went camping. He got his first spearfishing gun at 14.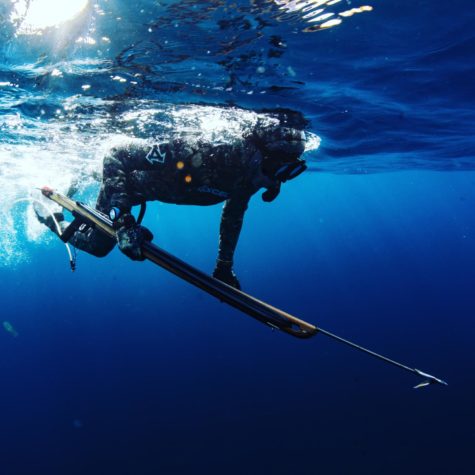 He has since then greatly expanded his repertoire of spearfishing skills, and has exhibited his skills all over the world. Mr. Henderson mainly dives from Montauk and Block Island. However, he has dived in places such as Rhode Island, North Carolina, Florida, the Caribbean, and even New Zealand, on a trip which he claimed to be one of the greatest highlights of his life. The spear-fishing season ranges from the beginning of April through November, so if you see a man submerged in the Atlantic holding a fishing gun this summer, there is a good chance that you are looking at Mr. Henderson.
   When I asked Mr. Henderson if spearfishing is a dangerous sport, he said that, "Spearfishing is a good way to die." He knows people who have been hit by boats, drowned, and who have run out of air when diving, and he himself was chased by a bull shark when on a dive in North Carolina. "Spearfishing is not something to just jump into, you need experience."
    To add to Mr. Henderson's collection of extreme athletic abilities, he enjoys marathon and long-distance running. I'm not just talking about your standard 26.2 mile marathon. 26.2 mile runs are a weekend activity for Mr. Henderson. When he was younger, he discovered that the longer the race got, the better he could compete. He has competed in races that range from the standard half-marathon to races of over 100 miles. Most of the races Mr. Henderson competes in, he ends up placing in the top 10% of all runners.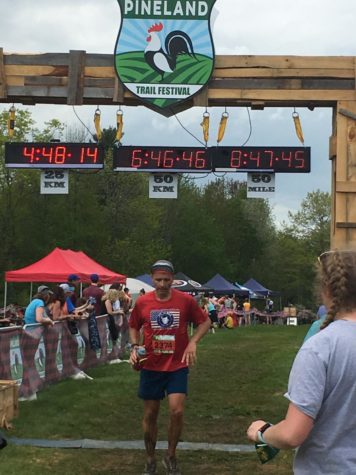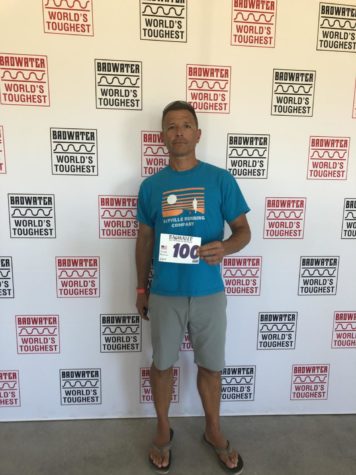 Notably, Mr. Henderson has competed in the Badwater 135 race, which is the most extreme and demanding running race offered anywhere in the world. The course starts in the appropriately named Death Valley, and ends at Mount Whitney, CA, and ranges an astonishing 135 miles. The ability to run for such long periods of time is almost superhuman, and Mr. Henderson has the capacity to dissociate from the physical pain these races cause. He focuses on his mental game.
    When starting this interview, I first attempted to learn more about why Mr. Henderson became a teacher, and why he has been teaching for over 20 years. When I asked him why he decided to be a teacher, I got a blank stare in return. "I was not a very good accountant," is what he responded. Many staff and students of Lindenhurst High School are probably thankful that Mr. Henderson's career in accounting did not work out too well, as he has influenced and inspired countless numbers of people with his knowledge and bravery.