Lindy Prom 2021
Seniors, the wait is almost over. Prom is less than two weeks away! At this point, those attending prom have already purchased their tickets and have likely bought their prom dress or suit. Given the current circumstances, this year's prom will have some glaring differences from every other prom in recent history. I interviewed Patrick Mathews, class council president, so we could get some insight on what the prom planning process was like this year.
Mathews informed us that a prom committee was assembled in February so it could be ensured that the seniors were given a proper send-off, especially since last year's seniors were stripped of both a standard prom and a graduation due to the COVID-19 pandemic. Originally, it was said that there would be no prom this year so planning a prom was not a simple task, but Mathews feels they've made great strides towards a safe prom that the seniors will remember for the rest of their lives.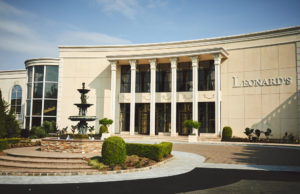 Prom will be taking place at Leonard's Palazzo in Great Neck, New York on Thursday, May 27th, from 7PM to 11PM. When asked if the committee ran into any issues during the planning process, Mathews fired off a few that were dealt with since the committee's formation. He claimed the most difficult part of the process was trying to please everybody. The first planned venue for prom was outside of Daniel Street elementary school, a very unpopular decision amongst students. Students also weren't pleased to hear that the original plan would not allow for non-senior Lindenhurst students or students from other towns to attend. Those issues would go on to be resolved quickly, as they found a new venue and are allowing students the privilege of bringing dates from different grades or towns, but a problem which didn't seem as easy to fix soon arose. It was learned by the prom committee that Leonard's Palazzo was not allowing more than 150 people per venue, which raised a problem for a prom to which 365 students are attending. Fortunately, the recent easing of certain pandemic restrictions made it possible for prom to take place at the venue in Great Neck.
With the "where" and "when" figured out, next to tackle was the "how." How is the safety of the students going to be ensured? It may seem impossible to put together a party for almost 400 attendees without risking serious exposure to COVID-19, however Mathews claims they devised a plan that should prevent the virus from wreaking havoc. For starters, all attendees must wear a mask at all times. Secondly, those who wish to attend prom must get a negative COVID-19 test; those that tested positive after February 28 or received all necessary doses of the vaccine prior to May 13 are exempt from this requirement.
In a school year full of abnormalities, the class of 2021 gets to end their high school career off with a bang thanks to class council president Patrick Mathews and the prom committee.