The Origin of Santa Claus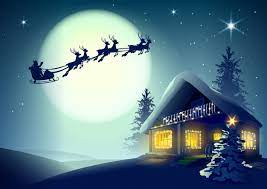 Santa Claus is actually a real person. The Monk St. Nicholas, soon to be known as Sinter Klaas, was believed to be born around 280 A.D. In Patara, Turkey. He was known for being the patron of children and sailors. He was also known for being kind, and generous in all he did. When St. Nicholas would help families in need, he would throw gold coins though their windows during the night. During one of the nights that St. Nick was throwing gold coins through a window, some of the gold landed on winter shoes and a stocking that were drying next to the fireplace. Soon, enough kids left out shoes for a special treat to be found in the morning, Shoes can still be found left out next to fireplaces or under Christmas trees during St. Nicholas Eve, and are filled with candy, fruits, small toys, and coins. 
In the 1800's, the myth of Santa Claus became much more popular in America when Clement Clarke Morre made the poem "The Night Before Christmas," which held descriptions of the modern day Santa. It was a cartoonist named Thomas Nast that helped bring Santa's image to life. His image consisted of a elderly man with a bright red suit and hat, a white beard with white hair, and rosy cheeks. The poem also brought to life the idea of Santa's elves, which inspired many other poems to be written. It wasn't until artist Norman Rockwell released a painting of a tired Santa trying to finish making a doll house, with dozens of elves trying to help him finish it that really connected Santa and his elf helpers.
What really made Santa's image appeal to the public was a Coca-Cola advertisement. During the 1920's, Coca-Cola was looking for a way to boost sales throughout the holiday season. Something that came to mind was Santa. So the Coca-Cola company used the idea that Santa was a Coca-Cola drinker, and added the headline, "Thirst Knows No Season." The company used Santa throughout the 1920's to 1930's, but it was in 1931 when customers were drawn in by a painting of Santa Claus grinning, having rosy cheeks, glasses, and drinking Coca-Cola. This was done by painter Haddon Sundblom. Even with Santa's evolution throughout the years, he is still a big part of Christmas tradition.