This Year's Kienle Award Winner Announced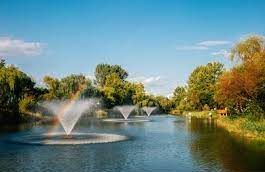 Zach Cook never expected to hear his name announced at the Lindenhurst Summer Camp award ceremony. "I was so surprised and excited," he said, "I never thought I was going to get it."
Cook has been attending the program since he was in first grade, and being named the Kienle Award winner as an eighth grader is an honor that left even his father stunned. "I didn't realize how big of an award it was until it was explained to me."
And a big award it is. Lifelong Lindenhurst resident Edward Kienle started the Lindenhurst Summer Camp in 1951. He served in the U.S. Army during WWII from 1943-45, was a Prisoner of War, and was awarded two Purple Hearts. As a physical education teacher at the Lindenhurst Highschool from 1948-83, he became a local celebrity. With his passing in 1985, the counselors began giving the Kienle award to one outstanding camper in his honor. 
Mayor Micheal Lavorata says of the Kienles, "it's a tremendous name, and they're an extremely well-loved family. Having an award in their name provides credibility to the entire program."
Mike Cannobio, the Village's Summer Program Director, says Zach easily possesses all of the traits a Kienle Award winner should have.
"Zach is someone you can rely on and acts as a leader for the group," he says, "No matter the situation, this camper is always lending a helping hand to his fellow campers and counselors and truly is a tremendous help." 
Cannobio also referenced Cook's athletic ability. "He's constantly showing off his ability to make plays. Whether it's an amazing catch in capture the flag or putting the team on his back in dodge call or hockey. You know this camper brings intensity with every sport he plays." Cook plays soccer and volleyball for the Lindenhurst Middle School.
Going into his ninth year in the program, Cook plans to become a counselor. When asked why, he says he was inspired by others counselors. "They made me want to be one. They're all so amazing."
Bouncing back from the pandemic, the camp continues to provide affordable and fun activities for children of all ages. Lavorata says the program supports comradery, bringing together kids from different schools who never would have known each other. The Mayor recalled a call with a Lindenhurst resident: "One lady had sent her kids to an expensive camp the past year, and the Lindenhurst program this year. She told me her kids loved this more than the expensive program."