Meet Me At Midnight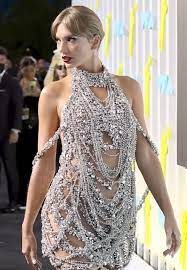 Taylor Swift's new Midnights album dropped at 12:00 A.M. on Friday, October 21. Fans had been insanely excited about this since she announced the album's release date. The whole media went crazy and stayed up until midnight in order to listen to her songs as soon as they dropped. Many of the original Swift fans joked that they were getting older and couldn't stay up that late anymore, but they were still going to do so because they love Taylor greatly. Due to the large number of users on Spotify that night, the app crashed for a short time. 
Taylor Swift fans, also known as swifties, have contrasting thoughts on this new album. There are opposing opinions on this new set of songs due to the style of her music feeling different compared to her previous popular albums such as Folklore and Evermore. However, hardcore swifties disagree with this and believe that Taylor's new album does have a similar vibe. People with this opinion tend to argue that those who disagree aren't real swifties.
Following its release, Midnights broke the record for biggest second day streams for any album in Spotify history. The initial thirteen tracks on this album that helped to break this record are, "Lavender Haze", "You're On Your Own, Kid", "Midnight Rain", "Maroon", "Anti-Hero", "Question…?", "Vigilante S***", "Bejeweled", "Snow On The Beach (ft. Lana Del Ray)", "Labyrinth", "Karma", "Sweet Nothing", and "Mastermind". Originally, the album was meant to only contain these thirteen songs, but Taylor decided to surprise her fans with an additional seven songs that were released at 3:00 A.M. These songs included, "The Great War", "Paris", "High Infidelity", "Glitch", "Bigger Than the Whole Sky", "Would've, Could've, Should've", and "Dear Reader".
Taylor had been planning on releasing this album for three years, and it was originally named Karma. People assume that this album is a mixture of relation to ex-boyfriends, confidence, insecurity, and relationships in general. Taylor's songs are relatable in many ways to countless people. There are a variety of theories concerning what her songs are about, but no one really knows for sure Taylor's true reasons behind her songs. Personally, the best songs on this track are, "Lavender Haze", "Maroon", and "You're On Your Own, Kid". These are just the album's top three songs for many, but her whole album is full of must listens. It truly is a no skip album! If you haven't already heard it, what are you waiting for!