Pearl Trilogy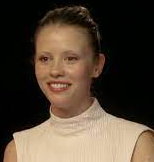 A24 is very well known for their extravagant films and TV shows such as Everything Everywhere All at Once and Euphoria. Just this year they have distributed two films, X and Pearl, just months apart, and have another one coming in the near future.
The director, Ti West, had stated in an interview with Bloody Disgusting that the upcoming film, MaXXXine, will be a part of the trilogy, and will act as a sequel to the first hit movie, X. He gave no more details in this interview, however brief descriptions are covered on sites such as Letterboxd and IMDb.
The two movies that are out now are incredibly different from normal horror and perfect for the Halloween season. The first movie, X, follows along young filmmakers attempting to debut an adult film. They are staying on a farm with an old couple, named Howard and Pearl. The couple weren't the most welcoming to the group, but they had continued with their goal in mind. One afternoon, while filming, Pearl had discovered what they were filming and started to turn crazy. X follows more of a sex-positive approach than of slasher, but there are still moments where you can feel appalled by the gore scenes. 
The prequel to the movie, Pearl, is the origin story of the sexual old woman on the farm. It gives a whole new outlook on her character and shows how Pearl and Howard came together. The movie is extremely sex positive, but still has plenty of disturbing gore moments. This movie felt even more uncomfortable to watch than the first one. It follows the story of Pearl as a young woman, still living with her strict mother and diseased father while Howard, her husband, is out fighting at war.
She has a burning desire to become a dancer, but due to her mother's needs, she is to help around the house and farm since her father is ill. She dances around the house and in the barn to perform for the animals. She constantly longs for a world where she isn't stuck on the farm, and tries her best to break free and take opportunities. This makes her mother very angry, and they don't have the best relationship to begin with. Throughout the movie, Pearl makes people uncomfortable, and her mother constantly tells her this. Pearl has a tendency to harm small animals around the farm, and then feed them to an alligator that lives in a lake nearby. This same alligator is shown in X. 
Both films are fantastic and deserve the recognition they are receiving. Mia Goth did an amazing job playing the roles of Pearl and Maxine (both from a different movie). It was less scary and more disturbing, which is what many reviewers had complained about online.