Does Brazil Have What it Takes?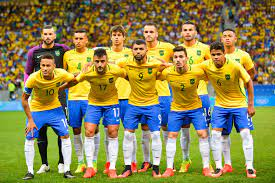 Professional Brazilian soccer star/footballer, Neymar da Silva Santos Júnior, also known as Neymar, is playing for the national team of Brazil in the World Cup. Neymar has a history of getting injured, back in 2014 he had severely injured his back and was almost left paralyzed. Although the injury of November 24th, 2022 wasn't as severe, Neymar's playing time was cut short when he was fouled by Juan Camilo Zuniga.
He had been getting tackled pretty hard during the match that night, but Juan Camilo Zuniga's tackle was what pushed him over the edge. Neymar suffered the injury to his right ankle and was substituted in the 79th minute of the game. The thirty year old footballer was limping and crying before he was escorted off the field. Neymar was seen in tears with his face in his hands on the bench as doctors were treating him as the final moments of the game were approaching.
Many fans were left devastated by this injury because Neymar is known as Brazil's most valuable player. He is the second highest goal scorer for the national team following Pelé. He was only 17 when he made his professional debut. Neymar has contributed a lot to his home team and is greatly appreciated by the fans for his hard work. Fans were upset at Serbia's team because they felt that they were playing unfairly. They protested that Neymar was being targeted because he was a good player and that they were attacking him through the entirety of the game.
Although Brazil still won the game against Serbia, fans were still worried about the games to come. The team won their next game thanks to the amazing goal by Casemiro, however they did lose on December 2nd against Cameroon. The score of the game was 1-0. This brought up concern for Brazil supporters. Neymar was trying his best to get back in the game. While doing an interview with SporTV, Neymar expressed what he felt in the moments of the injury. He said that he had a lot of fear because he had been doing well this season and he spent the night crying. He put a lot of effort into healing himself in order to continue playing in this year's World Cup. Neymar had to stay up late doing treatment with the physiotherapist. He said that the pain was worth it, so that he and his team can crown a title. Neymar explained how all the support and energy from his teammates, fans, family, and friends comforted him.
In Brazil's most recent game, Neymar was able to play because of all the work he had done to repair his ankle. He scored their 2nd goal during a penalty kick. Brazil made a terrific comeback in the game against South Korea! They scored a total of four amazing goals and enjoyed the win with fun celebratory dances. All the Brazil supporters filled the stadium with joy and cheer, it was a great night for them. Brazil is the top ranked team that is most likely to win the World Cup. All their players are phenomenal and Richarlson is rated as the top goal scorer as of right now because of the awesome goals he has been making. Brazil has five World Cup titles. They have made it to the final rounds and now we just have to see if they have what it takes to win it all.