Excelsior! The Stan Lee Story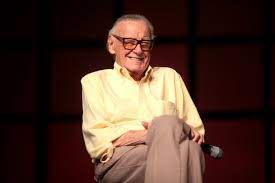 Stan Lee was known for being the primary creative of Marvel Comics, but how many people know his story?
Stanley Martin Lieber was born December 28th, 1922 in NYC. He was raised in a Jewish household. Stanley was always interested in the ideas of heroes and read frequently. He graduated High School early at the age of 16.
In 1939, he got a job at Timely Comics (soon to be renamed Marvel Comics) as a small time assistant, but he continued to work and went up the ranks. His first written comic was Captain America Comics #3. He used the pseudonym "Stan Lee" (as in Stanley), and he would eventually change his legal name to Stan Lee.
Lee took a break from comics to join the U.S. army in 1942. His job was repairing military communication technology. He returned to New York in 1945.
In the early 1950's, he wrote more grounded stories. He wrote romances, westerns, and science fiction stories. In the later 1950's, when DC Comics revitalized the superhero genre, Lee returned to superhero comics. He joined with comic art legend Jack Kirby to create characters like The Fantastic Four, Hulk, Thor, Iron Man, and The X-Men.
With Steve Ditko, Lee would co-create his greatest character yet, The Amazing Spider-Man.
In the 1960's, Lee was in total control of Marvel and had created almost every single character for them. It was around this time that he brought about his motto, Excelsior!
In the 80's Lee became publisher of Marvel Comics. He eventually stepped down in the 90's. Through the 2000's and 2010's Lee cameoed in different Marvel projects, including Fox's X-Men films, Sony's Spider-Man films, and Disney"s MCU films.
Stan would die in November of 2018, but his creations will live on.
Excelsior!