Fashion as a Symbol of Protest
Women's suffrage movement
Fashion could be underestimated many times and classified as superficial, since it could seem "just vanity" but fashion is truly an art. It is power and it is a way of raising our voices.  This has been evidenced in various struggles and protests throughout history in which fashion definitely an important role.
The National Woman Suffrage Association (NWSA) was formed by Elizabeth Cady Stanton and Susan B. Anthony in May of 1869. They disagreed with the regimes and laws since they all excluded the participation of women in politics. Thanks to these two girls who dared to be different, today we have the opportunity to vote regardless of your gender. In June 1908, suffragists showed their resistance for the cause through symbolism. They wore white clothes (usually dresses) through the streets with ribbons in purple and gold tones; this was because the white color symbolizes purity. This has greatly influenced society until today, since many women who know the meaning wear white to vote as a commemoration of those strong women who dared to revolutionize the political world.
The importance of pants
For decades, women were told how they should behave: serene, quiet, submissive, etc. And that lack of power was also reflected in their clothing. Society imposed on a woman what she could or could not wear, and pants were out of her reach, but nothing lasts forever. The dress reform movement began in 1851, when Elizabeth Cady Stanton and her neighbor, Amelia Bloomer, decided to wear a new type of skirt. It actually resembled a pair of pants much more than a demure skirt.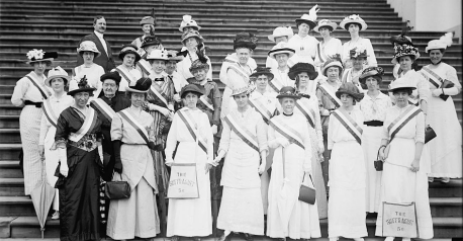 Very soon, this different style became popular, became known as the "bloomer outfit," and was worn by many prominent suffragists. This does not seem like a big deal, but in reality it was. At that time, these two brave women faced criticism, but fashion is a form of communication. This specific trend meant a lot to the feminists of the time since it symbolized gender equality. At the time, fashion was a form of communication, and this specific trend meant a lot to the feminists. The "bloomer outfit" was a big contribution.