Mom and Dad will make you cry to your mom and dad, or NOT!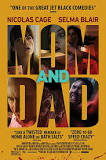 Mom and Dad is a horror comedy movie premiering on January 19th, 2018.  This movie involves the concept of parents trying to kill their kids. This movie is rated R for the adult language used. This movie stars Nicolas Cage, Selma Blair and Anne Winters. Mom and Dad tells the story of the Ryan's family. This movie is directed by Brian Taylor who also directed other movies including Crank, Gamer, Ghost Rider: Spirit of Vengeance  and Pathology. This will be his second time directing a horror movie. The first time was with the movie The Midnight Meat Train which came out in 2008. 
The parents of the neighborhood in this movie all try to kill their children. This goes directly against the saying "A parent will protect their child from everything."  In this movie, the kids are trying to survive the time their parents will try and kill them. This need for the parents of the neighborhood to kill their children will last only twenty-four hours. The children are trying to survive the madness of their parents by hiding, locking their doors, and strategically planning on how to make it through the night. The parents will use anything to get to their children and kill them. The parents use axes to get through walls and knives to stab through things. Throughout the movie, you care for the characters and want them to survive. There is strong character development because of the flashbacks that took place throughout the film. These flashbacks make the movie so much better because it shows the watchers that the parents in this movie were once like regular parents. Nicholas Cage had an amazing performance in this movie and really made you think he was a psycho maniac that wanted to kill his children. The Hollywood Reporter says that this movie is "Zero-to-60 speed crazy, is pretty much right in Cage's wheelhouse, and he offers up a perfectly amusing comical workout of the madman shtick he could pretty much do in his sleep at this point."
The movie starts with the older sister watching the news and seeing that parents are trying to kill their children. When she sees this, she runs to her brother immediately and tells him that they need to leave the house before their parents come home. Right when they are about to leave, the father comes home from work and everything falls apart. During the movie, you are rooting for the kids to survive the day without their parents killing them.
This movie is made to be a comedy, but is also a horror film and has some horrifying scenes. After seeing  Mom and Dad, you will want to run to your parents because of how scary it is, or maybe you will be running away from your parents.