Cashier-less Stores
Amazon launches a new era with the 1st fully automated store in America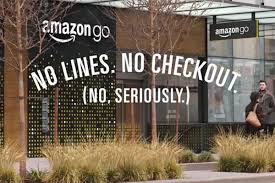 Hang on for a minute...we're trying to find some more stories you might like.
         Since the beginning of American Suburban shopping, the idea of a person behind the counter has been commonplace and almost irreplaceable. However, the increasing minimum wage has made hiring new employees difficult. This is a major disadvantage to running the traditional brick and block stores. However, with the advent of automation stores, they can now operate without the extra expense of paying employees. Amazon has apparently started what will be a new era with the 1st fully automated store in America.
This store is located near the Amazon Headquarters in the redeveloped north end of Downtown Seattle, Washington. According to the New York Times the store, "is an 1,800 square foot mini-market packed with shelves of food that you can find in a lot of other convenience stores- soda, potato chips, ketchup." To enter the store, customers must use the app on their smartphones to swap through the turnstiles which are entirely cashier-less. Then they can shop and roam the store just as you would normally do in a traditional grocery store. Shoppers leave the store through the same turnstiles and they are sent a receipt electronically to their smartphones.
Amazon is able to tell when someone buys or returns something from the store. The New York Times states that,"the only sign of the technology that makes this possible floats above the store shields-arrays of small cameras, hundreds of them throughout the store." This is a potential threat for cashiers whose jobs could be potentially replaced by automation if the technology expands. However, Amazon plans to use employees in other parts of the store in place of being in front of the counter.
Despite the criticisms surrounding this store, there are actually a number of benefits to this. First off, it eliminates the long lines traditionally associated with the traditional cash register. Secondly, the machinery is specifically designed to eliminate the risk of actual shoplifting which is a serious problem in this country. According to the National Association for Shoplifting Prevention statistics,"more than 13 billion dollars worth of goods are stolen from retailers every day or about 35 million dollars per year." Despite the negatives of a automated store, the positives are more significant to the future of shopping in this country.