Truth or Dare movie will make you NOT want to play the game ever again!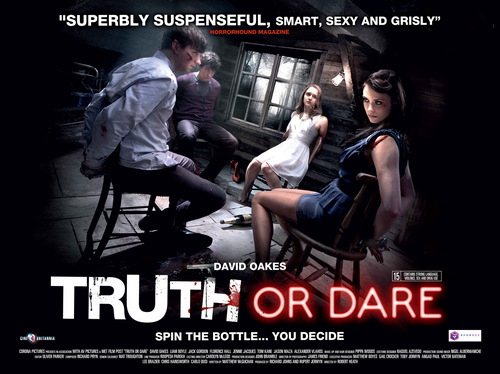 Truth Or Dare is a new horror movie coming out on April 13, 2018. This movie is rated PG-13 and stars Lucy Hale, who starred in the hit TV show, Pretty Little Liars, Tyler Posey, who was on Teen Wolf, Nolan Gerard Funk, who is a Canadian actor and singer that was in Glee, and Violett Beane who was in the TV show The Flash. Truth or Dare is directed by Jeff Wadlow.
This movie is about a bunch of teens who decide to play a game of truth and dare when it goes terribly wrong when someone or something starts to punish people that tell a lie or refuse a dare. Many people have high expectations for the movie because it stars a lot of people that were part of award winning TV shows including Pretty Little Liars, Glee, and Teen Wolf.
This movie is very similar to another horror movie that came out in 2012. Would You Rather can be seen on Netflix and has a similar plot to the new movie coming out. Would You Rather is about a girl who is invited to a dinner party and when she goes with her brother, she has to play a game of Would You Rather to the death until their is one person left and that person is able to get out alive. Both movies feature a game that kids play that goes into the wrong direction to people's lives being risked on purpose.
Truth or Dare does not have any reviews because it did not come out yet, but a lot of people have high expectations for it. When you look at it in the way most people are not, however, Would You Rather and Truth or Dare have similar plots. Would You Rather has gotten terrible reviews. From the New York Times, Jeannette Catsoulis says "By the midway point, viewers will be questioning whether they would rather remain in their seats or put their eyes out with a fork." This will probably make you question whether or not Truth or Dare will be like Would You Rather. Should people even bother watching the new movie with a twist of the childhood game?