Man Launches Rocket To Prove The Earth Is Flat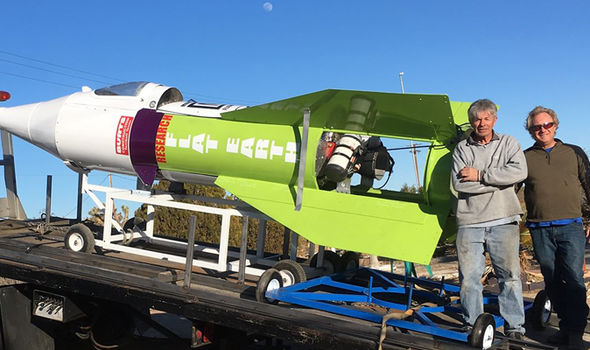 Recently, a man named Mike Hughes launched and boarded homemade rocket 875 feet in the air as a futile attempt to try to prove that the earth is flat.  The Rocket cost about $20,000 to make and was mostly built with scrap metal. It was green and labeled "Research flat earth." It actually did very well despite the fact that it was home made and had a very low budget. Mike actually used a mobile home as a launch pad and had modified it for that occasion. Once the rocket had reached its final zenith, it deployed parachutes and descended back down to the ground. Mike told The Associated Press that he did not regret it, despite a few temporary injuries, including a very bruised and achy back. This is not the first time Mike Hughes has launched a rocket and it probably won't be the last, many others have been filmed and covered by the media.
The rocket launch was delayed initially due to governmental issues with the Bureau of Land Management, which did not approve his initial flight path over public lands. Once Mike adjusted the flight path to make it more of a vertical ascent, he was approved for launch.  According to the AP, the steam-powered rocket flying at a speed of 350 miles per hour, did not reach the planned 350 psi (pounds per square inch of force) and was only able to reach 340 psi. Mike still hasn't got the proof he's looking for, and says he'll make bigger and better rockets that will launch him into space and prove his beliefs once and for all. Why he doesn't just look up a photograph or even test the math figured out by greeks thousands of years ago that proves the earth is round, no one knows, but he still believes the Earth is flat but wants to confirm with his own eyes.
When speaking with The Associated Press, Mike made clear his disbelief for science,"I don't believe in science. I know about aerodynamics and fluid dynamics and how things move through the air, about the certain size of rocket nozzles, and thrust, but that's not science, that's just a formula.There's no difference between science and science fiction." Mike Hughes is obviously an intelligent man, as shown by what he has accomplished by his own hard work and perseverance; however, this man clearly has no critical thinking skills. It is up to our education system to make sure that people like Mike Hughes, who seems to have a lot of potential, do not end up like him.