Lindenhurst Girls Lacrosse: A Turbulent Season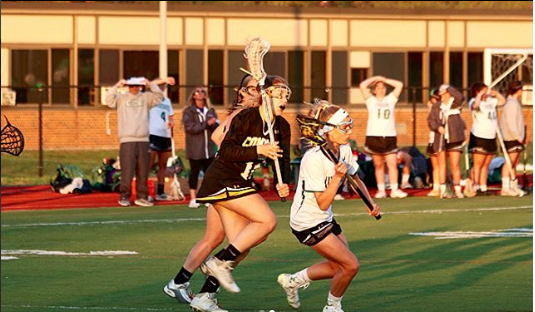 Kaitlyn Baum, Staff Writer
June 15, 2018
The Lindenhurst JV and Varsity Girls Lacrosse team were losing a majority of their games, but that did not stop the teams from having the same enthusiasm throughout the whole season. As a result, both JV and Varsity had a big turnover with winning 3- 4 games in a row! Lindy won 11-7 v. North Babylon, Lindenhurst won to Brentwood as well,9-6. Lindy also took a huge victory against Copiague 18-2. This a huge turnover shows everyone has learned to work together and bind together to make a great team! "The season had its ups and downs even though we lost some we never failed to be eager to win the next game" says Jessica Mangine, a first year Junior Varsity Lacrosse player.
Kiara Gomez, Alexis Provenz, Alivia Chieca and Danielle Corrente, Freshmen Varsity players, took the spotlight with Kiara averaging 3 or 4 goals out of a game. Danielle put the same determination on the field and Alexis and Alivia making a great aggressive defense. Camryn Sesselmann a Senior Midfielder Varsity Player, Erica Romeo, a Senior Defense Varsity Player, Rachel Lombardi, A Sophomore Attack Varsity Player, and Nicole Pontecorvo, a Varsity Midfielder have put balls in the net and have never given up the determination to keep the game alive. Those are just a handful of players that have never failed to be good teammates. Many of the Junior Varsity player had the same mindset. April Hilly, a Sophomore Midfielder, is a good example of this. Ever since the first JV practice she took on the role of Captain. Gianna Valela and Victoria Frangella both Sophomore Attack players have kept up the good support and sportsmanship every team wants and needs!
On Friday, May 11th The Girls Lindenhurst Lacrosse Team had a Fundraiser contributing to Jimmy Schiavone, who died of colon cancer. The first $250.00 would go to the American Society of Colon Cancer. They raised the money by selling the best baked goods in the Village and doing a raffle. They raised $1300 and $250 went in to the American Cancer Association and the rest went into Scholarships. Sadly that game they did lose but that didn't stop them to stay proud on how eager and persistent they were.