iDKHow: Debut EP, Waterparks Tour, and Recent Theft Issues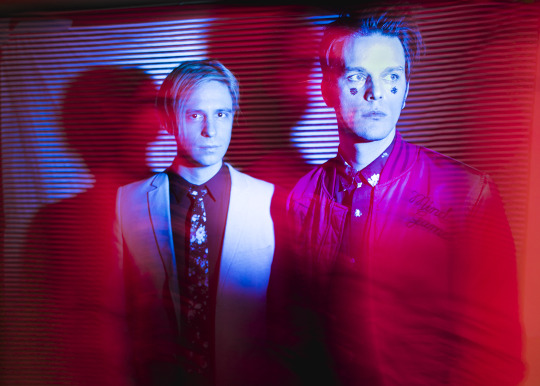 I Don't Know How But They Found Me (iDKHow), a band formed by former Panic! At The Disco member, Dallon Weekes, and former Falling in Reverse member, Ryan Seaman, recently released their first ep. The duo have been working together, releasing music together, and even playing shows together since early 2016, but despite their popularity from their former bands, they have just recently been gaining a substantial audience. Even though it would have been really easy for the two to bring over prior fans, they chose to gain a fanbase as naturally as possible, which meant starting out like any other band. Instead of playing to P!ATD fans or Falling in Reverse fans, they played to complete strangers and steadily increased in popularity by releasing good music, including the song "Choke" which may just be their most popular. Their music has been compared to that of P!ATD, Muse, and even David Bowie.
"
iDKHow have fun with their music and invite the listener to their party of oddities with their eclectic rhythms, bright and bubbly persona and vibrant zeal for a different kind of magic… this is outstanding; cavalier, debonair, and totally rocking."
— Hysteria Mag
iDKHow's debut EP, '1981 Extended Play,' was released Friday, November 9. It has six tracks including a 30 second spoken intro followed by five full length songs. All of the songs except one have been either previously released or previously played live. The duo is currently on tour with Waterparks and will be until December 1. 
Although the band has clearly been very successful lately, they have unfortunately also been dealing with some issues of theft. Last month, Weekes had $10,000 worth of stuff stolen from his hotel room and even though everything was eventually returned, earlier this month they had another issue with theft. A cardboard box containing $18,000 dollars was stolen off a tour bus and after police were called, the box was found on iDKHow's tour bus wrapped in the sweater of their merch guy, David Chapman. At first Chapman had denied taking the money, but after being fired by the band and arrested, he admitted to having taken it in order to make a point about leaving money lying around on the bus which is something the band allegedly did often. Chapman claimed to police that his plan was to eventually return the money, however, he acted very suspicious during questioning, even before the police were called. Hopefully now that Chapman will no longer be working with iDKHow, the band won't be stolen from anymore.
Check out iDKHow's music, merch, and/ or their remaining tour dates on www.idkhow.com.