Slipknot Album Details and Comeback
The Knot released the details for their new album last week, and fans are pumped.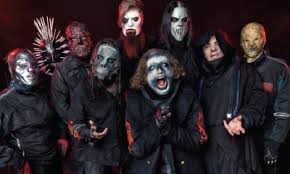 Hang on for a minute...we're trying to find some more stories you might like.
On Thursday May 16th, heavy metal giants, Slipknot, revealed a lot of new information about their upcoming album that has fans talking. This will be their first album since their 2014 release. 5: The Gray Chapter. Slipknot released their single ¨All Out Life" back in October and it was a smash hit. But it will not be on the upcoming album.
The Knot came back last Thursday with bombshell news. The new album that will be released on August 9th will be titled We Are Not Your Kind and will contain a 14 song tracklist. Slipknot released a new music video for the song off the upcoming album called "Unsainted."  Fans were very excited about this and the fact that it reached number one on the Youtube top trending list. In the new video, Slipknot revealed their new masks that they have been teasing on social media for the last week. But these masks didn't sit well with most fans, getting a lot of backlash. Especially Corey Taylor's. Corey Taylor even responded to this by saying "I wanted to f**k with people". In the music video, a new member of the band has been shown, and this also had fans going crazy. People have been all over social media to figure out the mystery of who is behind the new mask. The Knot continued and ultimately capped off their crazy and eventful week by performing live on the late night talk show Jimmy Kimmel Live! They debuted the new song "Unsainted" and played their last single "All Out Life" live for the first time. They were on television, so they couldn't go to their roots of stage diving and throwing kegs all over the stage, yet they still managed to put on a great show. With all of this going on, there has been controversy leading up to this and tragedy during all of this.
Long time percussionist of the band Chris Fehn left the band this past March. He filed a lawsuit against Slipknot claiming that there was payment being held back. He specifically pointed out Corey Taylor and Shawn Crahan for doing this. Crahan was one of the forming members of Slipknot in 1995, alongside Joey Jordison and Paul Gray. Fehn officially split from the band on March 18th, just days after the lawsuit was filed. Fehn said in a recently released interview, "There was so much mental abuse in Slipknot, I never got any love." Fans attacked Taylor after the accusations and he didn't appreciate it tweeting "You think that's d**kish, try being wrongfully accused of stealing money from someone you cared about, and having a lot of your fans believe it." Taylor also didn't like the fact that Fehn pointed fingers at specific members. They made the right choice in releasing him because at this point, he was a distraction to the band in making their sixth studio album (We Are Not Your Kind) and when you have a band of nine members, you are going to go through lineup changes. That's just how it happens.
Tragedy struck just days after Slipknot performed on Jimmy Kimmel Live! when Gabrielle Crahan, daughter of percussionist and founding member Shawn Crahan, passed away at the age of 22. Little details were released about the death, but it was announced on May 19 on Slipknot's social media. With circumstances like these, Slipknot will work very hard to make this their best tour coming up this summer. Slipknot isn't going anywhere any time soon.