Lindenhurst Golf Takeover
Most people in the Lindenhurst High School, including some of us here at Charles Street Times, didn't even know we have a Golf team. There are nine kids on the team. Captain Nick Dardano, star player Forest McMann, Stephen Gosline, Gino Mussilo, Matt Kennedy, Jordan Rosati, Tom Vine, Anthony Friedrich, Tim Vine, and the coach, Mr. Ward.  They play a pretty tough schedule, playing West Islip, Deer Park, Bay Shore, and West Babylon and North Babylon.  
Students from the team often are asked by friends, classmates, and peers, how does the high school golf team work?  It may seem pretty boring, but it is actually quite fun. There are usually eight players to a team, but only the top six play. The one being the best out of the six and the six being the least best. The The number nine is Anthony Friedrich. Most first year players tend not to be the best, but Anthony has some serious skills. The number eight is Jordan Rosati, Jordan is a sophomore and as this is his first year playing, but with work Jordan can be legit! The seventh would be Gino Mussilo, Gino is a great golfer just shy of that six spot, but for his first year playing he should be quite happy for himself. Now the one through six, the kids who "count" in the match.  Matt Kennedy is the number six, being a great golfer for just a freshman and can pull through when it counts. The number five is Tom Vine. Tom Vine being a senior is someone who the freshmen on the team can look up to.  Tom is could be considered a big time golfer. The number four would be Tim Vine. He has his bad days, but he also has his good days. When he's on, he can be a real game changer. The number three is our captain Nick Dardano who is a big time golfer and always comes in clutch for the team. Our number two is Stephen Gosline, who more likely than not will come out on top with his match helping the team get the win. Our number one is Forest McMann. There is not much to say about Forest beside the fact that he is probably in the conversation for one of the top golfers in Suffolk county, and he is number two in his class.
A simple rule in golf is the matches go by team score. Team score is where you add up all of the strokes from each kid on the team and who ever has fewer strokes at the end wins the match. You only play nine holes so the scores should be relatively low. The team plays at an event in the middle of October called leagues. Leagues is an event in golf where the top six for each team go to a golf course out east, and have three other kids in their group. These kids can be from all over Long Island and can vary in skill. We asked Captain Nick Dardano about leagues and his past experiences. " Leagues is just a completely different setting for golf. We have to take a forty-five minute bus ride out east, and play a course we have never played before. You don't really know what to expect." It's clear there is more to the the golf team than we thought before.
About the Contributor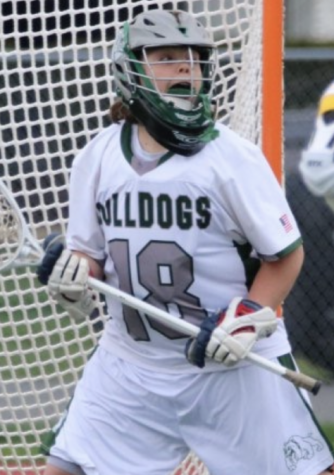 Timmy Vine, Polls Editor
Timmy Vine is a Junior at Lindenhurst High School and it is his second year writing for the Charles Street Times as a writer for the sports section. He...