Top 10 Slipknot Songs
Slipknot is one of the most well known metal bands today. But what songs are their best? Charles Street Times Sports Editor Anthony Colavito answers that question here!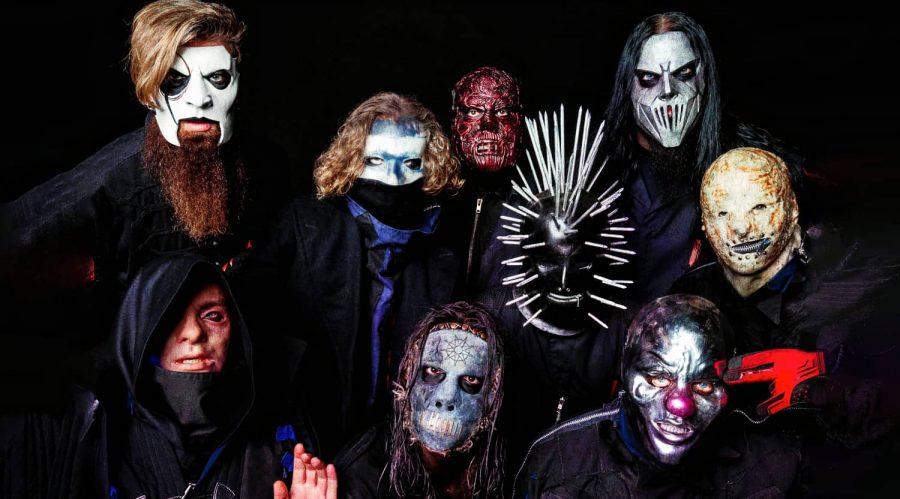 Slipknot are one of the most internationally popular metal bands around right now. Releasing six studio albums along with two live albums, Slipknot have built up a strong and crazy fan base since forming in 1995. There have been various lineup changes, whether it be disagreements between members or the tragic passing of bassist Paul Gray. Through all of this, Slipknot have been held together by Corey Taylor and Shawn "Clown" Crahan since Corey joined the band in 1997 and Clown being one of the founding members of the band. Over the years, the Knot have released many popular headbangers amongst metal heads. These songs are ranked based upon structure, meaning, instrumentals, lyrics, and some opinion. Some songs that just barely didn't make it are "Before I Forget," "The Heretic Anthem," "Sulfur," and "Nero Forte". 
10. Left Behind (Iowa)
Opening up this list is Left Behind off of Slipknot's second album Iowa. Unlike most songs on this album, it doesn't open up with a brutal lyric. It is described to be one of the more melodic songs off of Iowa, which gets points for being unique. Slipknot has made many melodic songs that have a complex structure, but this is an early example of them doing it. The chorus can help anyone get through a heavy set at the gym. Left Behind is a great way to open up this list. 
9. Wait and Bleed (Slipknot)
Wait and Bleed is one of Slipknot's most well known songs. This came out on their 1999 self titled debut album. This song helped launch a new wave of metal called nu metal. Corey Taylor's brutal lyrics mixed with his rapping in a new metal style was fresh, and is still very popular to this day. Points could also be given to this song for it's demo version having a great disc scratch solo in the bridge of the song. The song opens with the chorus in a calm demeanor, just for Corey Taylor to get a little more intense with it repeating it a second time before getting into the main guitar riff. Joey Jordison's drum pattern in this song gives it even more character. Wait and Bleed is an iconic song off of Slipknot's debut album, but there is even better to come.
8. Unsainted (We Are Not Your Kind)
Up next is the lead single off of Slipknot's newest album, We Are Not Your Kind, which came out last summer. Slipknot surprised their fans when first dropping this song. This came along with a new look for all the members of the band including a new member after the departure of longtime percussionist Chris Fehn. Songs are known on this album for their intros that build up over a minute before getting into the first verse or the main guitar riff. The chorus in this song is one of Slipknot's best. This song also has a great breakdown with D.J. Sid Wilson playing an amazing disc scratch to go along with the heavy distortion of the guitars. Unsainted is the first song off of We Are Not Your Kind to appear on the list, and it won't be the last. 
7. Everything Ends (Iowa)
The second song on this list off of Iowa is Everything Ends. This song has one of the best Slipknot vocal intros ever. "You are all (profanity) and overrated I think I'm gonna be sick and it's your fault, this is the end of everything, you are the end of everything." Corey Taylor's vocals really deliver on this song. Joey Jordison once again delivers on the drums with the backup percussion helping that cause. This is one of their heavier songs, which die hard fans love but isn't the best way into getting someone to like Slipknot. 
6. The Devil in I (.5 The Gray Chapter)
Spoiler alert, this is the only song off of .5 The Gray Chapter on this list. And it is the lead single, The Devil in I. This album came out in 2014, and is the first album with V-man on bass and Jay Weinberg on drums. This came after the departure of longtime drummer Joey Jordison and the untimely death of founding member and bass player Paul Gray, which is where the name, "The Gray Chapter", comes from. This song punches you in the face right away with a mean guitar riff backed by Weinberg's fast paced drum pattern. Once again, Fehn and Crahan's percussion gives this song just so much more character. After the intense instrumental intro, it goes into Corey Taylor actually singing, not screaming. Just for it to go into the chorus where the tempo is picked right back up where it left off in the intro. The coolest part about this song is its memo. The song is all about facing your inner demons or fears and eventually facing them, and conquering them. The bridge of this song depicts the facing of this fear as Corey Taylor screams, "I'm not your devil anymore!" Another cool part about this video is that each of the band members in the music video were "killed" by an actual fear of theirs. For example, Chris Fehn was eaten to death by birds in the video, which represents his real life fear of birds. These factors have all helped this song land at number six on our countdown.
5. Duality (Vol.3 The Subliminal Verses)
Duality is perhaps Slipknot's most well known song. Coming of their 2004 album Vol. 3 The Subliminal Verses, the song opens up with an isolated Corey Taylor tracking saying, "I push my fingers into my eyes,it's the only thing that slowly stops the ache, but it's made of all the things I have to…" before the rest of the band kicks in and Corey's tone of voice also picks up. Once the chorus ends, the main guitar riff is established, and Clown can be heard banging on a keg, which gives this song even more life. It is a fan favorite at concerts because of Clown's creative thinking to use a beer keg as a percussion instrument. Let's be honest, there is no need to explain why this song is on the list. It's iconic. But there will be some angry fans arguing that this should be higher, but we beg to differ… 
4. All Out Life (All Out Life)
This is where the controversy starts. Ranking "All Out Life" ahead of songs like "Before I Forget" and "The Heretic Anthem"? We must be nuts, but hear this out. "All Out Life" is all about what Slipknot and their fans hate most, the modern music industry. Corey Taylor calls it "sickening" that fans think that just because a song is old, it isn't good. That gave Taylor the inspiration to write this song. The build up of the drums and guitar in this song will get anybody hype and want to bounce off the wall. Corey Taylor sounds like what he sounded like in the Iowa days, which made fans happy to hear. The chorus sings, "Old does not mean dead, new does not mean best, no hard feelings I'm tired of being right about everything I've said", and Taylor isn't wrong at all. Just because music is new, does not at all mean it is the best. This gives this song so much meaning and with all the instrumental value there, it gives this song a very high spot on the list.
3. Eyeless (Slipknot)
You are probably once again thinking, "How does "Eyeless" land above "Wait and Bleed" and "Surfacing" on this list? Can it get any worse?". But once again, hear us out. "Eyeless" is another song off of Slipknot's self titled debut album. And the reason for it being so high is its drum intro. Joey Jordison plays his best drum sequence ever on the intro to this track, and it is fantastic. The fast pace of it is a great example of Slipknot's style in the early days and it is nothing short of beautiful. The lyrics are nothing but pure early Slipknot. The angst in Corey Taylor's voice is very recognizable and Crahan and Fehn provide much needed backup percussion that the song needs in order to establish its character. A controversial, yet fitting choice for the number three spot. 
2. Spit It Out (Slipknot)
This is something that most people would agree with. "Spit It Out" is perhaps Slipknot's most hype song. The song opens up with a sample done by Craig "133" Jones and Corey Taylor immediately starts rapping into the mic. With an opener of about seven seconds, the song jumps right into the first verse. The fast paced tempo of this song gives it so much life, as not too long later, the chorus kicks in. After a second verse that is structured a little differently than the first and a second hearing of the chorus, we get Slipknot's best musical bridge. Craig Jones and Sid Wilson work so well together on the samples and disc scratching for the bridge. Then Corey Taylor starts the lyrical bridge which the song has been building up to for the last two minutes. This song is even better when performed live. Corey Taylor's "jump the f*** up!" crowd interaction during the bridge is something all metalheads should experience. "Spit It Out" is the best song off of Slipknot's beloved debut album, but it wasn't enough to top our list. 
1. Solway Firth (We Are Not Your Kind)
This may come as a surprise to many Slipknot fans. But this isn't only the perfect Slipknot song, the elements of progressive metal and Slipknot's early music makes this the perfect blend of a song. Starting off with a slow sample, Corey starts singing the introduction of the song. As soon as that is done, the guitar riff starts and all the percussion comes together, just for the song to slow back down and then pick back up as the first verse starts. The first verse ties into the chorus like no other Slipknot song. After the chorus, the song picks up the pace and tempo even more in the second verse, just to slow it down a little more towards the end of it. The chorus kicks in a second time and after that is an instrumental bridge that gives each member of the band their time to shine a bit on this track. Once that ends, you could hear Jim Root still playing the guitar as DJ Sid Wilson spins the turntables to pick the song back up. It gives goosebumps to the listener as the chorus picks up again. That pretty much ends the song, and it is the last track off of Slipknot's latest album We Are Not Your Kind. The whole album builds up to it and it is well worth the listen. Old school Slipknot fans won't agree with this pick for the #1 spot, but who cares it is our list, and that was mentioned before the list began.