To Kneel Or Not To Kneel?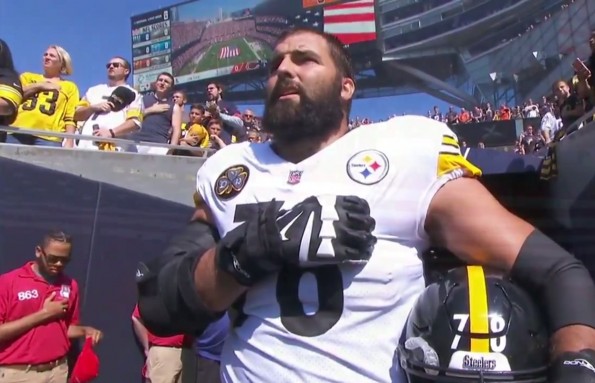 Brian Lanza, Breaking News Team
September 27, 2017
Not surprisingly, after a week of childish tweeting between President Trump and many famous athletes including Steph Curry and Shaquille O'neal, this weekend's NFL games featured a large number of players kneeling or not participating in the singing of the national anthem. Over a hundred NFL players took a knee or did not participate including most of the Oakland Raiders. Seven members of the Washington Redskins took a knee while the remaining players and the coach locked arms, and the entire Seattle Seahawks team opted out of participating in the National Anthem. Not only did the NFL team the Seattle Seahawks opt out of the national anthem, but so did their opposing team the Tennessee Titans. This is just the small fraction of teams that either entirely opted out of the national anthem or take a knee.
The Pittsburgh Steelers had one player stand for the national anthem, Alejandro Villanueva, a former US Army Ranger who revived the Bronze Star for Valor. The Bronze Star for Valor is one of the highest awards that can be achieved in the United States Military for acts of bravery and courage. Villanueva before going to the NFL served several tours in Afghanistan. Villanueva backed up his actions that were condemned by his coach by saying, "I don't know if the most effective way is to sit down during the national anthem with a country that's providing you freedom, providing you $16 million a year … when there are black minorities that are dying in Iraq and Afghanistan for less than $20,000 a year." He followed it by acknowledging that the problems that are being protected are very much real by saying, "I will be the first one to hold hands with Colin Kaepernick and do something about the way minorities are being treated in the United States, the injustice that is happening with police brutality, the justice system, inequalities in pay…" Villanueva said. "You can't do it by looking away from the people that are trying to protect our freedom and our country."