5 Biggest Takeaways from UFC 249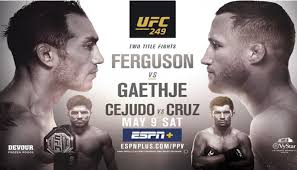 This past Saturday, May 9th, the UFC returned, as Justin Gaethje vs. Tony Ferguson headlined one of the most stacked cards that UFC president Dana White had ever put together. This event was the first live event that the UFC hosted since the pandemic, and was an absolute success. From the way they handled the safety protocols, to the plethora of exciting fights, this event was an absolute success, and demonstrated the measures needed in order to bring live sports back. In this article, CST sports editor Joseph Frescott will discuss his five biggest takeaways from the historic night.
1. Live sports are BACK!
Prior to the event on Saturday night, many critics were concerned about how the UFC would be able to make a combat sport safe, for both the fighters and all of the other people involved (such as the corner men, referees, commentators, and the whole production crew). UFC president Dana White silenced these critics, and went above and beyond in terms of safety protocol. All fighters, cornermen, and any media that would be in close contact either wore masks or were tested upon entering the hotel. They administered two tests, a cotton swab test and a blood sample test, in order to make sure that everyone involved was corona free. They administered "1,200 tests this week, on 300 people," UFC president Dana White said. Their system proved that it was effective from the very beginning, as one fighter, Jacre Souza, and 3 of his cornermen tested positive after being asymptomatic. They were escorted out of the hotel and his fight vs. Uriah Hall was canceled. These precautions made sure that no one else was harmed, and that the rest of the event could go on. 
Other than the extensive testing, the UFC also maintained social distancing for much of the night. The three commentators, Daniel Cormier, Joe Rogan, and Jon Anik, were all separated, using their mics to communicate throughout the evening. The media and personal people (cameramen, light directors, etc.) were all spread out as well. The only people not maintaining social distancing were the fighters, their cornermen, and the security guards, who were all tested and wore masks throughout the night. These safety measures made sure that no person was put at risk, and set a great example of what is needed if other sports want to begin again.  
2. Bryce Mitchell is the real deal
The UFC was able to get a lot of exposure from the prelim fights that were featured on ESPN. This provided a great opportunity for the fighters as well, as they knew that many people would be watching. One fighter that especially showed up during these prelims was Bryce "Thug Nasty" Mitchell. The rising star at featherweight made a name for himself in his second UFC fight, by becoming the second man to ever submit someone via Twister. In his third UFC fight this weekend, he continued to impress, as he absolutely dominated Charles Rosa for all 3 rounds. The Arkansas native continued to impress with his great ground game, and made Rosa, who is known as a solid grappler, look like it was his first time being taken down. "Thug Nasty" showed his plethora of submissions throughout all 3 rounds, almost locking up an arm triangle and twister if it wasn't for Rosa's gutsy effort to stay alive. With the fight being scored 30-25, 30-24, and 30-25, it was clear that Mitchell's performance was dominant. This victory against a formidable opponent in Charles Rosa keeps Mitchell's undefeated streak in the UFC alive and establishes him as one of the rising stars in the featherweight division. 
3. Francis Ngannou deserves a Title Shot
After Rozenstruik's last fight against Alstair Overeem, the undefeated Heavyweight called out one of the scariest men in the division, Francis Ngannou. Being called out was something Ngannou had never experienced, and he stated that it gave him more confidence while training for this fight. With fighters being power punchers, going into the fight, everyone knew that this fight would not last the full three rounds. Ngannou made sure it didn't last a minute, as after Rozenstruik landed a few leg kicks, Ngannou attacked and threw some bombs. After one of them landed, Rozenstruik went to sleep, which gave Ngannou his fourth straight victory by knockout. 
Ngannou moves to 15-3 after this win. Following this impressive victory, it was clear to fight fans everywhere that he deserves another shot at the title. The only issue is that the Heavyweight division is in a "stand still," meaning that the next championship fight will be the rematch between Cormier and Miocic. Until then, all of the other fights have to wait for their shot, which is extremely unfair for Ngannou, who is on a 5 fight winning streak. Unless the trilogy fight between Cormier and Miocic is scheduled soon, Dana should schedule an interim title fight for Ngannou. 
4. Justin Gaethje delivers on short notice
The biggest surprise of the night was the absolutely dominating performance that Justin "The Highlight" Gaethje had in his fight against Tony "El Cucuy" Ferguson. Gaethje, in the biggest fight of his career, put it all together on Saturday night, and ended Ferguson's 12 fight win streak via knockout in the 5th Round. 
This fight was Gaethje's to lose from the very beginning, as he landed big power shots and leg kicks all night. To Ferguson's credit, his chin was rock solid, and he took more punches than anyone who ever faced Gaethje before. His ability to survive the five rounds was nothing short of remarkable, as Gaethje landed shots that would have put 99% of the division to sleep. However, Tony could not get anything going offensively, as Gaethje's counters made him hesitant to try any of his unconventional shots. In the end, Gaethje fought a perfect fight and looked better than he ever has in the octagon. If he shows up like he did against Ferguson, "The Highlight" could give the champion, Khabib Nurmagomedov, a run for his money in the unification bout this summer. 
5. We may never see Tony vs. Khabib
Originally, UFC 249 was supposed to headline Tony Ferguson vs. Khabib Nurmagomedov for the lightweight title. After the pandemic swept the world and Khabib was forced to stay in Russia, this fight was canceled, and Gaetje stepped in to fight Ferguson for the interim title. With Khabib pulling out, this marked the 5th time that Khabib vs. Ferguson was scheduled and didn't happen. This was upsetting from MMA fans everywhere, as on paper, this fight would be great to watch. However, from missed weight cuts to worldwide pandemics stopping this fight from happening, it seems like this fight is cursed. Now more than ever, with Gaethje winning the fight and Ferguson aging, it is unlikely that fight fans will ever get to see their dream matchup.