LGBTQ+ Representation for #Pride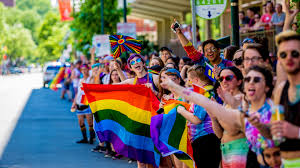 For Pride this year, since people are not able to go out for the yearly parades in June, watching movies, reading books, and educating yourself is very important. With many people having a lot of time on their hands, here is a list of various movies, TV shows, and books that represent LGBTQ+ characters.
Call Me by Your Name
A movie and a book by Andre Aciman from 2007, is a story of a 17 year boy that falls obsessively in love with a 24 year old writer that lives in their summer house. This story follows them through the summer and shows what can result from total intimacy. This story is an amazing life lesson for people to understand the beautiful idea of love. 
Love, Simon 
A movie, adapted from the book Simon vs. The Homosapiens Agenda by Becky Albertali, that tells the story of Simon, a gay high schooler that is currently in the closet. In his high school years, he falls for a classmate online, however, he does not know who they are. This movie goes into the growth and struggle involved with coming out to friends, family, and yourself. 
Glee
Glee is a TV show about a Glee club at McKinley High School which was recently started by Spanish teacher William Schuester. This show includes various Lesbian, Bisexual, Gay, and Transgender characters. This show roots for the underdog and brings light to high school outcasts. 
Aristotle and Dante Discover the Secrets of the Universe
This novel by Benjamin Alire Saenz tells the coming-of-age story of two boys and their struggles with sexuality, racial and ethnic identity, and family relationships. This book is best to go into not knowing much about, but it is able to have such a great impact.
Oranges Are Not the Only Fruit
This novel, by Jeannete Winterson, was written in 1985 and tells the coming-of-age story of a Lesbian girl that grows up in a very religious family. The book was also converted into a BBC television adaptation in 1990.