The Re-emergence of the Arizona Cardinals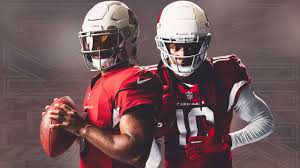 This season, the Cardinals have been on down in Arizona with second year head coach Kliff Kingsbury and second year quarterback Kyler Murray. This week in Arizona, they beat the previously undefeated Seahawks 37-34 in a great shootout game with MVP candidate Russel Wilson throwing for 388 yard, three touchdowns, three interceptions, and completing 33 out of 50 pass attempts. The Cardinals put up a great effort against Seattle with Murray throwing for 360 yards, three touchdowns, one interception and completing 34 out of 48 of his passes.  Combined with rushing yards, he had 374 total yards. This was the best game of the NFL season by far, and of Kyler Murray's young career. This game was a statement to the NFL: The Cardinals are for real and they are a very dangerous team.
The Cardinals once were a team that was stuck in mediocrity the last couple of years. After their 2015 NFC Championship loss to the Panthers, they seemed to be on a downward spiral. The Cardinals thought they drafted their future franchise quarterback in Josh Rosen with the tenth overall pick of the 2018 NFL Draft, but they soon found out they had the worst team in the league, so it was impossible for Josh to succeed on that team.  The Cardinals went 3-13 and they ended up with the number one pick in the draft.  They saw an opportunity to draft a stud in Oklahoma quarterback, Kyler Murray. In response to Bruce Arians resigning, they hired Kliff Kingsbury out of Texas Tech with his air raid offense that lit up college scoreboards. Kyler's rookie season was good. He was good by leading the Cardinals to a 5-10-1 record and threw for a total of 3,722 yards, 20 touchdowns, 12 interceptions and a completion percentage of 64.4 on his passes. It was a good season for Murray with the pieces he had around him and a below average offensive line while he was running for his life every play so people so how can you expect him to succeed 
This off season, the Cardinals hit a home run by fleecing the Texans arguably the best receiver in the league in Deandre Hopkins. Bill O'Brien, the former GM and head coach of the Texans, had a falling out with the star receiver about his contract. Hopkins reminded him of former Patriots tight end, Aaron Hernandez.  He ended up being a murderer, but that is a story for a different time.  That was the last straw for Hopkins, so he requested a trade.  He ended up on the Cardinals and got paid.  The Texans only traded him for a washed up David Johnson and a fourth round pick. Easily the Cardinals have won this trade because Hopkins is the best and most consistent receiver in the league this season. We haven't even gotten to their first round draft pick yet in their position-less player in Isaiah Simmons from the national powerhouse that is Clemson.  Simmons can play any position on the defensive side of the ball, as he was the most versatile player in the country last year for the Tigers. The Cardinals expected production right away from him and they got it this week in overtime as he picked off Russel Wilson to set up the Cards in great field for Kyler Murray to lead the team to the game winning field goal that Zane Gonzalez drilled to give the Cards the win. Zane redeemed himself for missing his first attempt of a game winner in overtime that was a 41 yard chip shot but in the end he clutched up and that's what matters. 
Another key player during the game was safety Budda Baker as he picked off Wilson in the second quarter and was almost home free, but he got caught by the athletic freak of nature that is D.K. Metcalf so he gets a pass. Baker has been a stud this season as he is on pace for a career year with the Cards.  In his first four seasons he did not record a single interception.  This season he already has two in six games, and has been a lock down safety as he has gotten praise all over the NFL from coaches, players, teammates and Pro Football Focus. Baker has been a really underrated piece for the Cardinals and fans are glad now he is getting the recognition he deserves after playing in front of a nationally televised game for every NFL fan to see.  
What we've learned from this game is that these are not the same old mediocre Arizona Cardinals. This new age Cardinals team have shown they can compete with playoff caliber teams with all pro and pro bowl type players such as Russel Wilson and Bobby Wagner. If Kyler Murray keeps playing the way he's been playing, he is going to be a dark horse for the MVP and by the end of the year we might be talking about how he's one of the top ten Quarterback in the league. The Cardinals defense in the coming years if they get some pass rushers and keep developing Isaiah Simmons he will be a once and generation type of player playing every position of the defensive side of the ball and if Budda Baker keeps balling they gonna be a scary team in the years to come.