Mets Complete Blockbuster Deal For Francisco Lindor, Carlos Carrasco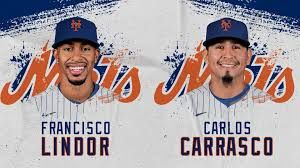 The Steve Cohen era is officially underway in Flushing, Queens, as the New York Mets and Cleveland Indians have completed a blockbuster trade involving superstar shortstop Francisco Lindor. With this move, Cohen is sending a message to the rest of the league; he wants to build a juggernaut with the New York Mets. As a result of this move, expect a ripple effect throughout the rest of the league.
The Trade 
Mets Acquire: SS Francisco Lindor/ RHP Carlos Carrasco
Indians Acquire: SS Amed Rosario/ INF Andres Gimenez/ RHP Josh Wolf/ OF Isaiah Greene
What It Means For the Mets
Acquiring a player of Francisco Lindor's magnitude is a franchise changing move. In recent history, this move is very similar to the Los Angeles Dodgers trading for Mookie Betts last season, or the Yankees trading for Giancarlo Stanton. For the Mets, this is the type of trade that automatically gets compared to the past deals they made, the most notable comparisons being the trades for Hall of Fame Catchers Gary Carter and Mike Piazza in 1984 and 1998 respectively. 
Lindor plays a premiere position in the middle of the diamond at shortstop, and has been one of the best to do it at that spot for the past six seasons. Just turning 27 last November, Lindor is still in the middle of his prime, and consistently has MVP level numbers year in and year out. Since making his debut in 2015, the switch-hitting shortstop has a career .285/.346/.488 while hitting 191 doubles, 138 homers, 411 RBI and 99 stolen bases. Lindor is also a four-time All Star, two-time Gold Glove winner, including a Platinum Glove which is awarded to the best overall defender, and a two-time Silver Slugger. Lindor is only under contract for the 2021 season at the moment.
The other player included in the trade heading to New York is starting pitcher Carlos Carrasco. Carrasco, 33, has put together a very strong resume in his 11-year career, all being with Cleveland. With a career 88-73 record, Carrasco also brings a strong career 3.77 ERA. Carrasco will file in behind arguably the best pitcher in baseball, Jacob deGrom. 
Beyond baseball, Lindor and Carrasco are great personalities. Lindor is known for his energy and his infectious smile, which earned him the nickname Mr. Smile. Carrasco has overcome a lot of medical difficulties in his past. In 2019, he was diagnosed with leukemia. He would go on to pitch in the majors that same year while also earning the 2019 AL Comeback Player of the Year Award and the 2019 Roberto Clemente Award, which was given to him for his philanthropic efforts.
This trade is also a message from Mets new owner Steve Cohen. The Hedge Fund owner, worth around $14 Billion, purchased the Mets from the Wilpon and Katz families last November. Immediately after the purchase became official, Cohen became the richest owner in the sport. He then hired Sandy Alderson to be the new President of the New York Mets. It had been evident through speculation and Cohen and Alderson's initial press conference that Cohen wanted to build a perennial winner, and having the wealth that he has, it has allowed for the Mets to be one of the more active teams in the league so far in a very stagnant free agent market. The Mets already made a massive upgrade to their team this offseason by retaining SP Marcus Stroman the qualifying offer, worth $18.9 million for 2021. They also added to their bullpen signing RP Trevor May to a two-year deal worth $15.5 million. Most recently, they signed 2019 All Star Catcher James McCann to a four- year contract worth $40 million. This blockbuster trade only adds to the Mets drastic improvements this year, sending their payroll into the climate of teams like the Los Angeles Dodgers and New York Yankees, while also making them legitimate world series contenders.
What It Means For The Indians 
Cleveland fans have the right to be upset and annoyed at this trade. This trade wasn't one that was a surprising move by any means. In fact, owner Paul Dolan in an interview back in 2019 when asked about keeping Lindor in Cleveland long term said, "Enjoy him. We control him for three more years. Enjoy him and then we'll see what happens". As a fan, this is what you never want to hear, but it's also what makes Major League Baseball different from any other major sports league- there is no salary cap. With no salary cap, it requires franchises to use their money strategically, as every team has a certain threshold they can go to. 
The return for Lindor seems a little disappointing through the eyes of many. Cleveland acquired two MLB ready players and two prospects just recently drafted by the Mets. Amed Rosario and Andres Gimenez are fine players in this league, but just not the caliber you would think of as guys used to get a superstar like Lindor. Prospects Josh Wolf and Isaiah Greene were both in the 5-10 range in the Mets farm ranks. They are both extremely young players, both being drafted from high school within the last two years. That's what makes this trade so hard to judge at the moment. Like stated earlier, it seems somewhat weak, but in five to six years when Wolf and Greene are both projected to be at the Major League level, who knows what they turn into. Same goes for Rosario and Gimenez. Rosario was a former top five prospect in all of baseball, and although he hasn't reached his potential, he is still only 25. Gimenez was also featured on the former Top 100 Prospects list and made his debut in 2020. He doesn't have as much power as modern day players, but looks to be a player that can hit for a high average, utilize his speed in the basepaths and is a wizard defensively. 
What It Means For The Rest Of The League
This trade is one you'd usually expect from the other team from New York; the Yankees. But this type of move by the Mets shows that they are all in, not only in the near future but the long term future. It is also the type of thing that alters the thinking of other teams in the league, and this trade certainly changes things up.

Top free agents such as SP Trevor Bauer and CF George Springer have been linked to the Mets all offseason so far. This trade makes the Mets a lot more desirable team to play for. However, with acquiring around $31 million in salary from this trade, the question remains whether the Mets still pursue these two All-Stars, or do they back off their pursuit of both and focus on adding pieces to the bullpen like Liam Hendrick or Brad Hand. For other teams involved on these top free agents, does this make their pursuit of them easier? For Bauer, the fit in New York no longer seems as reasonable as it once did, and does it allow other teams interested like the Los Angeles Angels and San Francisco Giants to heat up their negotiations? With Springer, the only other realistic fit besides the Mets seems like the Toronto Blue Jays, who were also reportedly in the initial talks for Lindor. With the Mets acquiring Lindor, does a team like Toronto come in and sign Springer? Only time will tell, but with spring training approaching around a month, moves should happen soon.
What Does It Mean For Lindor Long Term
Lastly, the next big question for the Mets becomes how do they keep Lindor in the blue and orange long term. President Sandy Alderson in a press conference on Thursday when asked said that those talks would certainly occur "in the next couple weeks". The Mets also need to look into extensions for former all stars Michael Conforto and Noah Syndergaard, but it'd be safe to assume that Lindor would be the priority. With Cleveland, it was reported that they were almost $100 million apart in negotiations. Lindor would almost definitely look for somewhere between $30-$35 million a year. Based on deals recently like those of Manny Machado, Mookie Betts and Bryce Harper, who were all about the same age as Lindor when they signed their mega deals, you would expect Lindors contract to be similar, especially when you factor in the positional value of Lindor at shortstop. It will cost Cohen and Alderson a pretty penny to retain their new face of the franchise, but something in the range of 7-10 years and $210-$330 million dollar range seems like the most likely outcome. 
About the Writer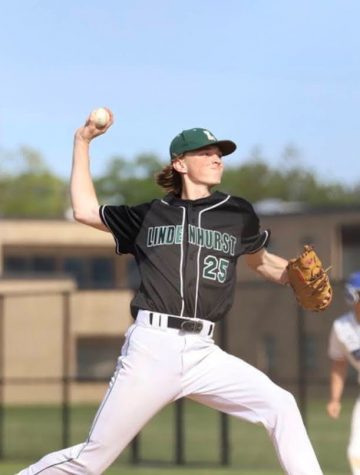 Jack Kelly, Staff Writer
Jack Kelly is a Senior at LHS in his first year of writing for the Charles Street Times. Kelly spends a lot of time with friends and family and sports....