New York to Allow Limited Spectators
Could this be the start of things returning back to normal?
Perhaps this could be the start of better days to come. All of the terrible things that we hear about on the news every single day might start taking a turn for the better. The world that we have gotten so used to, a world where we could go wherever and whenever we wanted to, took a drastic turn to where we could no longer enjoy those liberties. It has been almost a full year since COVID shut down the world, and now small steps are being taken with precautions to bring back the normal world we lived in before. We could be seeing our normal lives come back slowly but surely, and that is something that everyone would welcome after the hard times we have been through.
New York Governor Andrew Cuomo and his team have announced that indoor sports and concert venues can soon reopen on February 23, 2021, with a limited capacity. Cuomo has allowed the stadiums and arenas with up to ten percent of full capacity, and "attendees will have assigned seats spread apart", according to MSN Sports. The number of fans that would be allowed in the building for the event won't be the same for every stadium, due to the difference in size of each arena, but with limited attendance and the ability to roam free around the building during the event, precautions can still be followed without the spreading of COVID-19. In addition to the smaller number of spectators permitted in the building, people will also have to have a negative COVID test before entry and must wear face coverings during the game or event.
This new plan may have been put in place as a result of the success that the Buffalo Bills home playoff game against the Indianapolis Colts had. Nearly 7,000 fans were allowed to be in attendance for the game and Governor Cuomo had this to say in a press conference: "The Buffalo Bills demonstration was an unparalleled success." Every fan that attended the game was tested prior to entry to make sure that it was safe to reopen stadiums for spectators to come and watch. The test also had to be a PCR COVID-19 test result rather than a rapid test to assure that they are negative.
An additional factor that made this decision easier for Cuomo is the fact that the number of cases in New York has reached its lowest average since December 1. Along with the lower number of cases that have been reported in the state, the number of people vaccinated has skyrocketed to a total of 2.6 million, and that number is only going to increase with time. If this trend of cases going down continues, we could start to see bigger crowds in attendance sooner than we originally thought. Fans have been kept out of stadiums for so long and they are dying to get back with other fans and support their favorite teams in person rather than at home. In the time that we have seen without fans, it really shows how important it is for people to be in attendance, just for the overall experience of the game and what it really means to have home field advantage. Players have said in interviews that games have just not had the same feeling as they have in years past. Once allowed back in, it is easy to say that fans will be excited to be back and will be crazier than ever before in the stands.
The first team and arena that would be back open to the public with the new policy in place would be the Brooklyn Nets who play in the Barclays Center. Their game on February 23rd against the Sacramento Kings would be the first sporting event open under the new policy. The Nets, currently sitting at third place in the Eastern Conference, are one of the most exciting teams in the NBA with three superstar players. Nets fans are certainly eager to get back in the arena with the team they have this season, and while it may not be the amount of people that we want, it is a step in the right direction.
With the MLB season starting April 1st, the Yankees and Mets may be able to start the season with fans in the stands. New York baseball has a different buzz this season than we have seen in years past, as both teams are contenders in their respective divisions. The Mets had a great offseason, making many moves to improve their lineup, rotation, and overall depth of the team, thanks to new owner, Steve Cohen coming in and making big moves to better the team. There hasn't been this much buzz surrounding the team in a very long time, and this is the start of a new era of Mets baseball. Headlined by the best pitcher in baseball in Jacob deGrom, the biggest trade over the offseason to acquire star shortstop, Francisco Lindor, and a young core to build the team's future around, this could be a very dangerous team for years to come. Fans will certainly be excited to get back in the building and watch this new look Mets team, and the Yankees fans will have as much energy as they did before the shutdown once allowed back. This will be a strange season for sure with the limited crowds, but in order to get back to the way it was before, these are things that everyone is going to have to follow.
The NHL is also going to have its fair share of challenges for the rest of the season. Their season has been limited to 56 games and we are over a quarter of the way through already. Some teams have been forced to postpone their games due to COVID protocol and players testing positive, but the league is doing everything in their power to try to prevent that and keep the players on the ice and playing on a normal schedule. This shouldn't be too much of a problem once fans are allowed in the building as long as both sides keep their distance from one another to keep everyone safe. Hockey fans are known for their passion and excitement during games, and even with a lesser amount of fans in the stands, that excitement certainly will not go away. Both the Islanders and Rangers are at an exciting time to be a fan right now with rosters full of young talent that should let them contend for years to come, and fans will be more than ready to get back and cheer for their respective teams.
Fans Permitted in Each NY Stadium
Yankee Stadium- 5,425
Citi Field (Mets)- 4,192
Barclays Center (Nets)- 1,773
Nassau Coliseum (Islanders)- 1,391
Madison Square Garden (Knicks)- 1,981
Madison Square Garden (Rangers)- 1,800
About the Writer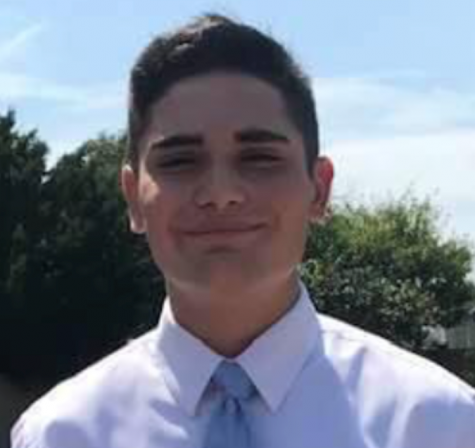 Chris Elwell, Staff Writer
Chris Elwell is a senior at Lindenhurst Senior High School. This is his first year writing for the Charles Street Times. Mainly he writes in the sports...