J.J. Watt to the Arizona Cardinals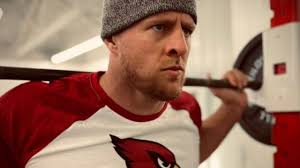 J.J. Watt has been one of if not the best defensive players of his time in the NFL since being drafted in 2011. His tenure with the Texans was one for the ages with him racking up five Pro Bowl nods and five All Pro seasons , with 101 sacks to his same while also being named to the all-2010's team. Now he is bringing all of that to his new team, the Arizona Cardinals.  They were up and coming last season showing great feats with the "Hail Murray" and many more spectacular highlights including young players ready to take the next step with their game. The deal that brought Watt to the Cardinals is worth two years and $31 million with $23 million  guaranteed on his contract. This is a big win for the Cardinals as they have a young defense that needs a leader and Watt brings that with his still elite pass rush ability even though he is still getting up there in age and had a couple big injuries the last couple of seasons.
In today's NFL, you need a pass rusher to be successful.  He will be tasked to handle playing in one of the most competitive divisions in football, NFC West with teams that have had success the last couple of seasons, like the 49ers who went to the Super Bowl two seasons ago and now are getting healthy again. The Rams traded two more first round picks to pick up Matthew Stafford leading the helm and giving the Rams a great QB to run Sean McVay's offense to its limits. The Seahawks won the division last year with a 12-4 record with Russell Wilson having a career year and was the MVP front runner during the first couple weeks of the season. J.J Watt will certainly make the Cardinals a better team and will definitely be in contention in the division this season. He is also reuniting with his former teammate, Deandre Hopkins, who was shockingly traded to the Cardinals by Bill O'Brien after a contract dispute and personal issues with the team. Hopkins has been a major impact player for the Cardinals and has proven he was definitely worth more than the second round pick he was traded for when he was shipped out of Houston by making the Pro Bowl for the filth time in his career and tying his career high in catches.
With J.J. Watt coming off the edge he will have Chandler Jones to be his partner in crime coming off the edge that will be a very exciting tag team duo to watch next season. Fans will expect this team to compete for a playoff spot and a championship this coming year with the success they had last year  at their peak when they beat the Seahawks with the play of the year the "Hail Murray". This team is in win now mode with this young roster but they still have a ways to go to win a championship but only time can tell what other moves they will make to improve their roster from here on out.